How Can I Join A Paintball Team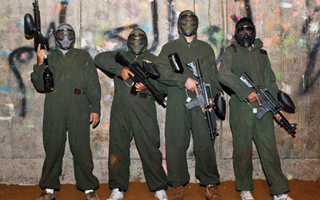 Joining a paintball team can be a fast fun way to meet new players and increase your learning curve. So many people want to start their own team that there tends to be an overload of teams searching for players. Finding a team to join is easy. Here are a few ways to start doing it.
With all the traffic and talk that the major paintball forums get, it's no wonder it's a great place to find local teams with an opening for a player. Look in the regional thread for teams searching for players or post your own thread letting everyone in your area know that you're seeking a team to play on.
Paintball Teams Looking For A Player
Word of mouth can be a great way for you to find a new team. Often just talking to your friends and fellow paintballers will help you turn up an opening. Connections and networking are the name of the game here. Friends with similar interests talk and can pass along the info that you're seeking a spot on a team.
Post an ad on Craigslist, your school bulletin board, or at your local paintball field. All of these sources get plenty of traffic and could turn up gold for you. Keep the post short and sweet; paintball player seeking team. Give a few details but let the ad work for itself so they contact you. Even if it doesn't work out after talking to them, now you've created more word of mouth moving among your peers.
Watch for the type of events you would like to play at your local paintball fields and head out there on game day. Walk around and talk to players, teams, refs, field owners and spectators. Make yourself approachable and friendly. Let them know you're looking for a paintball team to join.
If your local field has regular walk-on games go out and get involved. Show up and have fun playing. You'll make a lot of new friends and soon you'll find yourself on a team or starting a new one with your new friends.
Don't worry about how expensive your equipment is or how many years you've been playing paintball. The most important thing is your attitude and reliability. Do you show up on time and will you be able to make it to all the practices? Can you afford to play at the events and have reliable transportation? Ask about expectations and estimated expenses to see if you're a good fit for the team.
Getting started now with these tips can help you to find a good paintball team. Get posting and talking and you'll be playing on a team in no time.
Posted by Redwood on 07/19/2012