How To Start A Paintball Team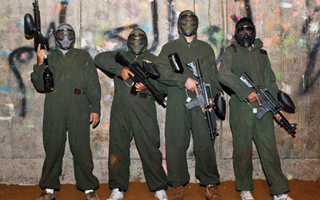 A lot of people ask what the requirements are to start a paintball team. If you like paintball and have friends who play, you already have the difficult part done. Organize one or more friends and ask them to start a team with you. You don't need a permit or a magic fairy to give some kind of blessing. Simply get together with other like minded player(s) and commit to being a team.
Come up with a team name. I wrote a guide for chosing a paintball team name. Be creative, but remember you need a name that sponsors would be comfortable associating with. So don't call yourselves The Child Murderers or something derogatory. Be reasonable.
Decide what events your team wants to play. Make sure they are events everyone on the team can afford and have the skill level for. If there are only 2 or 3 of you and there is a 5 man event you want to enter, find another 3 man team to play with for that event.
Get together and practice as a team. Go to the local paintball field and find other teams to run drills with. Get on the regional threads in the large paintball forums and start talking to other teams. You may also find other local players looking for a team to join on these forums.
If you can afford jerseys, find custom jersey retailer and agree on a design, colors and what information to put on the jerseys. You don't need completely matching outfits to be a team. Do what you can afford or start saving your money and plan to get them next year.
Create a website if you are able to. There are several free website builders and hosts available. Otherwise you could create a Facebook page as your team's website. Connect with other teams and paintball companies on Facebook and other social media.
Start playing events and improving. Become a part of the local paintball scene and be active. Maintain a positive attitude and don't ever talk trash about anyone or any paintball business/field. I've seen teams build a terrible reputation by complaining about reffing at an event or saying a certain field ripped them off. Do not do that ever, ever, ever, ever.
Sponsorship. Yeah, most people think they're going to get some big sponsorships. If you can't create a team and play regularly, or you're depending on a sponsorship to get equipment to start playing - you need to rethink your strategy.
Starting a paintball team and getting sponsorships are not related. Start your team, earn some respect, get better at playing, play for a couple of years while you build your paintball team's resume. Then apply for sponsorships after you're an established team with a couple of years of experience.
Other thoughts:
Have you considered joining an existing team instead of starting one? There are a lot of teams searching for players. Again, look on the regional threads in large paintball forums, or visit your local paintball fields. Ask the field owners, refs, other players or whoever is involved in the local paintball scene, they can pass along info and get your name to others searching.
What to do to start a team:
Talk to your paintball friends and commit to starting a team
Agree on a team name and make it official
Plan a few events that you will play as a team
Connect with other teams
Practice as a team
Keep records of events you play for your team resume
What not to do to start a team:
Trash talk other teams, fields or reffing
Wait for some magical moment to start a team
Expect sponsorship or "free stuff"
Think you have to play major events to be taken seriously
Now get up and get going on this now. You can do it!
---
Posted by Redwood on 11/20/2012(updated 11/17/2014)