GoG eXTCy Paintball Marker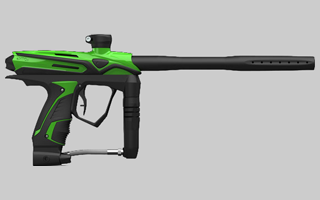 Check Current Price: Go!
Finding an extremely capable tournament level marker for under $250 is almost unheard of these days. The GOG eXTCy paintball gun shoots 20 balls per second and boasts a full array of features usually found on much more expensive paint markers.
With a lightweight all metal design the aluminum grip frame and hard aluminum alloy body(protected with a polymer cover) helps make the eXTCy light and mobile while maintaining the durability to handle fast action tournament play. It's ergonomically balanced to feel like an extension of your arm. This helps you deliver paint accurately downfield onto your target.
Its true electro pneumatic design has no hammer, springs or sear to wear out. GOG has combined the valve and the bolt into one moving part. This innovative bolt can be easily removed from the rear of the marker for a quick cleaning or maintenance. They also made the wired anti-chop eye cover easy to remove for fast paint removal.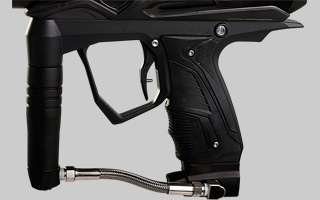 eXTCy Trigger Frame and Bottom Line
The air system starts with a standard on/off bottom line adaptor and feeds to the eXTCy's legendary Max-Flo regulator that sips air at a low pressure of 160 psi. Although HPA is prefered the marker can operate reliably on CO2 when needed.
One of our favorite features of the eXTCy paintball gun is its completely programmable circuit board(requires a single 9v battery) that lets you set up dwell timing, first shot drop, eye logic, and firing modes. The board can be quickly programed for the lightweight two finger double adjustable trigger to fire in modes that include:
Capped & Uncapped Semi-Auto
NXL/PSP/Millenium/CFOA modes
Auto Response
Rebound
Select fire
Burst
Full Auto
Billy-Ball
Adjustable Ramp
Your eXTCy can be modified with interchangeable body color kits available separately. Also available for upgrades are:
Firebolt(Ion Bolt Compatibility)
Dovetail Adaptor
Rechargeable Batteries & Battery Charger
Quick Grip Panel Poppers
Grip Covers
Barrels(Inline, Tactical, Freak & Junior)
GOG made certain that value was one of this marker's most important features. They include a sturdy branded plastic carry case, low profile clamping feedneck, and standard Smart Parts Ion compatible barrel threads. The eXTCy definitely gets our vote as the top marker for under $250.
>>Check out a GoG eXTCY Paintball Gun now<<
Posted by Redwood on 02/22/2013
Also see:
See the GOG eNVy