Spyder Victor Player's Pack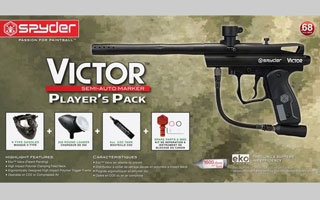 Check Current Price: Go!
If you're looking for a great deal on an entry level marker package, we recommend the Kingman Spyder Victor Player's Pack. It's a well rounded package deal for players trying to make the break from rental equipment and wanting their own gear to maintain. It includes everything, except paintballs, to get started.
The Victor paintball gun has proven itself on the battlefield for many years. Kingman is a very reliable brand and the Victor model is an affordable marker with many great features. It's very easy to maintain and is designed to be trouble free. Its semi-auto action shoots standard .68 caliber paintballs and will operate on CO2 or HPA compressed air.(CO2 tank included)
The Victor Package includes everything to get started.
The included 9 ounce CO2 tank can be filled at any field offering CO2 and meets with paintball safety standards. It's easy to spin into the Victor's bottom-line ASA. It can be removed after play is done and stored in a cool place with CO2 still in it.
The V-Type paintball mask will help protect your face and eyes while providing an unobstructed view of the field. It's not a thermal lens, but anti-fog spray can be used to reduce fogging during sweaty play.
Included in with the Player's Pack is a basic gravity feed hopper that will work well with the Victor marker. It holds 200 rounds of paintballs that will steadily feed into the gun. A motorized loader can always be added later if desired.
Paintball fields like to see people playing with safe equipment, this marker pack provides just that; safety and reliability. If you're searching for a great paintball package to get started, the Spyder Victor Player's Pack is the one for you.
Shop for a Spyder Victor Players Pack now.
Posted by Redwood on 02/21/2013