Empire Prophecy Paintball Loader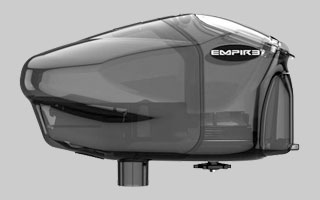 Check Current Price: Go!
Empire brings us another top notch paintball loader. The Prophecy paintball loader comes as an improvement over the Magna Drive and B2 loader and delivers an alarming 'on gun' feed rate of over 40 balls per second. Thats one of the fastest rates in the industry and will feed the hungriest of high end paintball guns. This paintball loader weighs in at just over one pound and is slightly swept back to give the perfect balanced feel while providing an ultra low profile when coming around bunkers. Empire gave this loader configurable options from ball capacity to lid design. This paintball loader can be set up for any type of paintball play. This hopper sells for around $150 and is available in black or smoke colors.
At over 30bps Empire Prophecy is an ultra fast loader
The new Empire Prophecy Paintball Loader is based on a halo design with improvements for increased strength in high stress areas.
The removable front shell pops off for cleaning and is available as a standard 240 all capacity. Optional nose shells come in 195 or 260(not 200 and 280 like other sites claim) ball capacity with purchasing separate front shells(about $20 each). The Prophecy can be configured for 4AA or 2 9v batteries that are easily accessible by removing the nose cone.
The feedneck is a one piece snap in design and is fed by the 6 speed high torque motor for super fast consistent loading. The feed paddle is an adjustable magnetic preload feed system with anti-blow back venting and has a reversing ramp for when the Empire "Freeway" anti-jam technology is activated. The Empire Prophecy Loader has an ultra smooth delrin drive carrier and housing.
The quick change back plate removes for electronic board access and houses the toggle on/off switch and a led power state indicator light. Standard magnetic lid is replaceable with a friction lid(about $10) or quick load style lid. The paintball loader is sound and\or radio activated and has a redesigned RIP drive system that is more effective and ergonomically correct.
This loader needs almost no tools for complete disassembly, battery changes or drive adjustments.
Check out the Empire Prophecy Paintball Loader now.
Taking apart for cleaning:
Re-configuring the clutch system:
Shell design for lightweight & improved strength:
New one piece, snap in-snap out feedneck:
In depth disassembly for cleaning:
Disassembling the floor, outlet & wiring harness:
Disassembling the drive system:
Disassembling the lower drive train:
Assembling the lower drive train:
Assembling the lower drive train:
Assembling the drive system:
Assembling the wiring harness, outlet, floor & batteries:
Assembling body shells & lid:
Drive system explode view:
Check out the Empire Prophecy Paintball Loader now.
Posted by Redwood
Also see:
Paintball Loaders
Dye Rotor Paintball Loader
Pinokio Paintball Loader