Virtue Spire Loader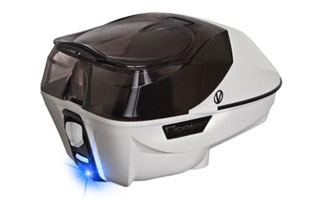 Check Current Price: Go!
The Virtue Spire Paintball Loader is a complete redesign on the way loaders work and play. The totally toolless design breaks down effortlessly for a quick service inspection or a panicked cleaning session between tournament rounds. Its low profile stance atop your marker helps maintain a tiny target signature when dancing through a hail storm of ill intended paintballs. The innovative internals are lightweight, simple, and self optimizing.
The $185 price tag on the Spire isn't for the weak of wallet and makes this loader only suited for the most demanding of players. We suspect R&D rung up a big bill during the Spire's conception with newfangled jewels, like; the G-force activated feed sensor, an astonishingly tough nylon shell, a well packaged water resistant electronics board, and a motor stack built into the spring mounted rotor paddle.
Fast, Light, and Innovative | The Spire Really Performs
Even though the Spire Loader has a self optimized motor and logistics already programed in, there will inevitably be paintballers who need to tinker with the paddle pressure and feed speed. Virtue has made provisions to allow for program modifications to suit the demanding player with personal customization hot on their mind.
This new spring suspended rubber paddle design is rumored to be forgiving for the most brittle of paintballs. Erratically feeding a stack of paintballs during heavy burst demands while snap shooting causes the brittle ball stack to slam into itself and would be a difficult task even for the most expensive loaders to manage. Yet, the Virtue Spire is designed to work well in that exact situation.
Powered by 3 easily replaced AA batteries the Virtue Spire runs a full day without a problem. A simple on/off push button switch has a light that displays its status. A brief push of the button again shoves the paddle forward to force the ball stack. Although this paddle shove can be used to clear a jam, Virtue has stated that the Spire's mechanical design inherently clears jams on its own.
Weighing in faintly over a pound the Spire's minimal profile promotes a balanced feel to your marker when swinging around a bunker or changing your setup to the opposing side of your body. The Spire would find a comfortable home on and small marker/tank combo.
When mounted on a marker it's hard to believe this hopper will carry 200 rounds. The minimalist architecture of the shell makes the nose inconspicuous when coming around a bunker to snap shoot. As a matter of fact, the shell is remarkably unobtrusive compared to most other loaders, especially loaders that actually hold 200 rounds.
Currently(as of writing this) the Virtue Spire Loader is available in Stealth Black and basic white. An optional speed feed lid is available and is well worth the investment.
If you're ready to feed your marker with the Virtue Spire Loader we recommend buying it at Paintball-Online or Zephyr Paintball. They offer free shipping, great customer service, and the lowest prices on the Internet.
Posted by Redwood on 09/18/2012
Also see:
Virtue Spire Loader Manual