JT Spectra Flex 8 Mask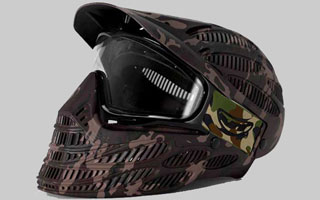 Check Current Price: Go!
The JT Spectra Flex 8 Full Mask protects your entire head from those painful paintball skull impacts. The flexible surface absorbs the hit so your head doesn't have to. While the shell is vented to keep you cool, it also moves with you to maintain a high level of comfort. The rear half of the shell is attached to the Spectra's adjustable main mask strap. It allows for a custom fit to match the size of your head.
JT is very well know for producing some of the highest quality masks in paintball. The Spectra Flex 8 is one of their most popular and a great choice for any serious paintball player or weekend warrior looking for a high quality mask.
Some of the base features offered on the Spectra mask are; a dual-plane thermal no fog lens, full ventilation for heat and moisture escape, included visor and chin strap, and the ability to add-on the JT Vortex Fan system.
This JT paintball mask is available in camo, olive green, and gray. The camo will help you melt into the surrounding vegetation when you need to play the perfect paintball sniper. The olive green and gray versions are also less noticeable colors that can help you to blend in.
As with most JT masks the Flex 8 has a lot of accessories you can add on later. Different lens tints, straps, and replaceable foam are just a few items that are for sale by JT and online retailers to help customize your mask.
If you're searching for a cheap full head protection paintball mask, we recommend the Spectra Flex 8. It has got the form and function needed for the demanding player and is also good looking with an affordable price tag.
Check out the JT Spectra Flex 8 Paintball Mask now.
Posted by Redwood on 02/25/2013