Save Phace OU812 Carnage Mask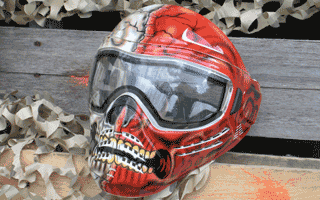 Check Current Price: Go!
Save Phace has been blowing our minds with their imaginative looking masks. If you're interested in scaring an opponent completely off the paintball field, Save Phace may have the mask for you. For this review we put the OU812 Carnage model into action. We found it horrifyingly repulsive - in all the right ways.
Save Phace has several attention grabbing designs that could frighten the bravest of players. They also have camouflage patterns capable of melting into the floral, and the ability to create a custom design with your own artwork. The variety of graphic choices would make a seasoned graffiti artist weep with jealousy.
"scaring an opponent completely off the paintball field"
Upon first glances we loved the attention to detail put into the Artwork. It's truly a masterpiece of craftsmanship. We were further wowed by the clear coat layer applied to protect the graphics.
The mask is shipped in a plastic clam-shell that houses the mask and all its accessories. To our surprise, plugs were included for the mask's face vents. A great touch, especially for us Northern players that head to the field during the cold Winter months. Also included is an optional visor, a mask bag, and a manual. The lens had a plastic protective sheeting on it to prevent scratches and scuffs during shipping and handling.
Inside View of the OU812 Mask
Our OU812 mask is definitely lightweight, but just a tad heavier than our current Vforce and Dye masks. Overall facial and ear protection seem right on par with what you'll find in a full coverage paintball mask. Chin, ears, and forehead had plenty of shelter even for those of us with large heads.
Save Phace designed the lens(and strap) for quick removal if cleaning, or a change of appearance, is needed. Our mask has the quick release RWI Foam (Replaceable, Washable and Interchangeable). Although we've had some minor issues with it staying in place, it's been a much appreciated option for rinsing and drying the foam between paintball games.
Another welcome perk from Save Phace is the fog resistant UV coating applied to the lens. The thermal dual pane lens in our mask will discourage fog in the most challenging of situations. It will certainly help us make the most of the huge peripheral view provided by our OU812 mask. No one in there right mind would argue with the unobstructed field of view.
Additional lenses can be purchased in; clear, smoke, mirrored, and yellow. All the colors are available in single or dual pane. The single pane run about $18 with the dual pane priced at $30. Communication devices, mask mounted video cameras, and fan ventilation kits are also available from Save Phace. All the mask parts can be purchased individually, too.
The tough plastic mask material has adequate openings around your mouth for air ventilation and communication with your teammates. The mask can be waxed to make it more paint resistant. That's not something you can do with most masks and could be a big advantage when getting beaned in the mellon by a 300 feet per second 68 caliber paint filled gel capsule.
Two out of the three of us who tried this mask definitely had some restriction in our ability to breathe through our nose with the mask on. We stretched the mask for a couple of days(we are not recommending you do this) and it seemed to fix most of our problems. We've had to do this with other masks, too. It just proves our OU812 mask can be tailor fit for different size players.
There is no doubt you will see us Wolfpack players wearing Save Phace masks at events. They're a lot of fun and definitely make a statement. We recommend you buy your Save Phace Mask from Paintball-Online or Zephyr Paintball. Both retailers offer the lowest prices and usually have cheap or free shipping.
Posted by Redwood on 09/28/2012