The Rise Of Atlantis
December 1st & 2nd, 2012
Wayne's World of Paintball
Ocala, Florida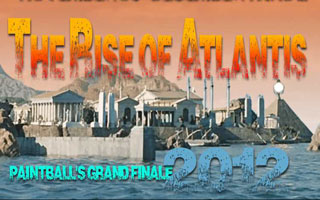 Every 640,000 years the sun lines up with the Milky Way and creates a great scenario game at Wayne's World of Paintball in Ocala, Florida. This event is a weekend long scenario game that will pin end of the world survivors against each other in an epic battle to become the victors in a post apocalyptic world.
The $50 registration by November 12th gets you entered to win a Tippmann X7 Phenom and entrance into the scenario event. You will also receive an arm patch, ID tag, a chance to win prizes and awards after the event. On site registration opens on Saturday(Dec. 1st) at 8am, with game play beginning at Noon and ending Sunday at 2pm. Cases of Marballizer and Premium Paintballs range from $60-$65. All day CO2 is an additional $10 with HPA being $20.
For more information or preregistration visit Waynes World of Paintball or call Wayne Dollack at 352-401-1801.
Directions to Field: http://binged.it/WGvyw3
Posted by Redwood on 11/08/2012
Back To Paintball Events