Empire Scion Paintball Loader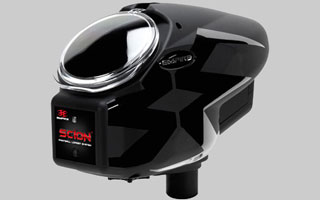 Check Availability: Scion Loader
Empire is due to release the new Scion Paintball Loader later this month. It's essentially a more efficient Halo with speed adjustments, some toolless access improvements, and eyes that are more forgiving towards different paintball shell colors.
Empire says the loader will feed up to 25 balls per second and has a RIP drive. Most Halo accessories are compatible with the Scion.
The Scion should be available in mid-November(2012) in a black or smoke shell. The price tag is set to be in the $99.95 area and should be widely available at any of the large online retailers.
Posted by Redwood on 11/09/2012
Return to New Paintball Products index page.