Dye Assault Matrix(DAM)
Magazine Fed Marker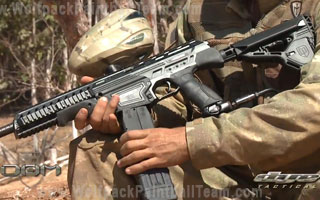 Click for larger view Dye Assault Matrix
**Update(11/23/2012) The Dye Assault Matrix is now available at most online retailers.
The new Dye dual(hopper/magazine) fed, First Strike capable, marker is coming. It can be switched from hopper fed to magazine fed on the fly with a sliding mechanical button. The magazine holds 20 rounds - 10 in front and 10 in back - and must be fipped after 10 have been shot. Its electronic firing mode can be set to semi-auto, 3 shot burst, or full auto via what looks to be push buttons on the left side above the single finger trigger. The air system is an internal gas through trigger frame design. There are many tactical rails for mounting your needed battle accessories. It looks the part of a heavy duty scenario type marker. So far we can see a collapsable stock, a built in front shroud, and a ported barrel poking out the front. No idea yet on price or availability. But I'd expect a typical Dye price tag. We'll post a link for pre-ordering as soon as we can. Sign up for our Newsletter to be notified.
Posted by Redwood on 10/12/2012
Return to New Paintball Products index page.