BT Avatar Paintball Mask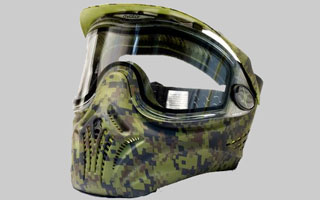 Check Current Price: Go!
BT is certainly well known for there incredible paintball guns, but did you know they make one of the most popular paintball masks for scenario and milsim players? The BT Avatar Paintball Mask comes in a digital camo that helps your enormous pumpkin blend into the background. Pair them up with some Goggle Skins and you almost completely eliminate your mask's visual signature.
Besides having all the normal props of a serious mask, this unit is truly designed for the serious milsim player. Its got a thermal lens to keep your visibility vivid during hot sweaty play and full ventilation around your mouth and nose area to help increase the amount of fresh air available during all of those high adrenaline paintball battles. The brow shield and the duel density foam also helps keep the sweat from getting into your eyes.
Serious Scenario Players Love the BT Avatar Mask
BT Avatar Goggles w/Kitty
The soft and flexible dual molded mask will increase the chances that you will have paintballs bounce off of your mask instead of breaking. That can be a real game changer for an aggressive player that demands the most out of their mask. The semi rigid faceplate keeps the softer outside of the mask intact and helps to conform to your face. This will provide you with a comfortable, secure fit when running and bunker jumping.
The mask comes ready to go into battle. It has a micro fiber bag for carrying to the field and a removable visor to fit your ever changing playing environment needs. You can expect this paintball mask to last you for many years and the Avatar is fast becoming one of the more popular models on the field.
Check out a BT Avatar Paintball Mask now.
Posted by Redwood on 08/10/2010
Also see:
Carnivore Paintball Mask
Sly Profit Paintball Masks Goggle System
BT SA-17 Paintball Pistol
BT Paintball Vest