Paintball Bipod
A Great Paintball Gun Build w/Bipod
A serious sniper will tell you the importance of a good paintball bipod for your marker. Yet, snipers aren't the only ones using bipods now days. They have become the mainstream accessory for a standard scenario weapon that fills many rolls. Although heavy gunners and sharpshooters helped mold the details of bipods, today's paintball players have found ways for this upgrade to be multifunctional.
Paintball bipods come in all sorts of different shapes and sizes. Their inventiveness has become their attraction. An older bipod with limited folding capabilities would get us hung up on thick brush and even are own clothing. Today's bipods have eliminated sharp or hooking edges and can be completely retracted or maneuvered to a non-invasive position that allows us full movement.
"The Bipod has become a mainstream accessory
for the scenario weapon that fills many rolls"
Many paintball manufacturers have taken the bipod and made it a dual roll add-on to also function as a front grip. Several of these desings also include the legs of the structure retracting into the handle to remain totally hidden until needed. This can create an efficient design that works well for any milsim weapon.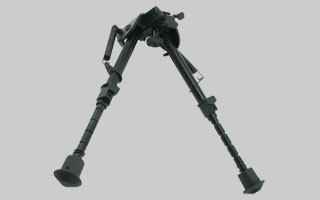 Check out a Paintball Bipod NOW!
Decide what material you want the feet of your paintball bipod to be made from. There are two common options; rubber or metal. Several people argue that when they are on the paintball field they don't want to have to worry about rubber feet falling off and disappearing into the dense brush below. Others will contest that the metal feet can be noise or not provide the most stable platform when shooting, often moving a little when the gun cycles reducing accuracy.
Most of the paintball bipods are constructed of super tough steel or aluminum. Some of the lower end models are made of polymer composites or even plastic. Your budget will determine the material of your bipods build. Try to predict the amount of abuse you think the bipod will take and purchase accordingly.
Many bipods can be quickly mounted to the bottom of your paintball gun with a tactical rail. Some are designed to mount directly to your paintball barrel. There have even been bipod designed to fit onto a specific build, like a Tippmann A5 M16 build. If you need this specific type of gun build mounting, you maybe looking around a little longer to find it.
As stated above, some bipods are created to retract into the foregrip while others, or even - most, are built with spring loaded legs that quickly fold back with a light sweep of your hand when you are ready to move to the next location or go mobile into a firefight.
A Heavy Gunner can use the bipod as a pivot point to keep his muzzle level and sweep his aim across an effective plane of a target rich environment. A sniper can use the bipod to optimize his platform and spend more of his energy on breathing or predicting the targets movement. I've also seen people use the bipod to hook their gun over a bunker to improve their snap shooting. Its uses are open for you to explore.
What ever your paintball bipod needs, adding one to your paintball gun will give you more options on the field and may bring you more eliminations. Plus, a bipod will add to the looks and function of your scenario milsim weapon. Have fun with it! Check out a Paintball Bipod NOW!
Also see:
Sniper Rifle Paintball Gun Parts
Tippmann 98 Custom Upgrades
Tippmann X7 Upgrades
Tippmann A5 Sniper Rifle Upgrades and Add-ons

Posted by Redwood on 04/12/2010