Sly Profit Paintball Masks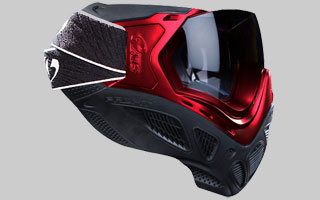 Price Check: GO!
The all new Sly Profit Paintball Mask was created with a high degree of distortion free vertical and horizontal visibility as its main goal to set it apart from competitors. Sure this mask has a lot of the features of the usual high end masks, but there are several areas where the Sly Profit has that, "little something extra."
Sly Paintball has recently come onto the paintball scene with their line of sporty looking high end apparel and marker parts. Pads, packs, jerseys, tank accessories, barrels and masks. Most of their products are perfect for the hard core tournament player looking to make his/her dollar go further yet maintain that big dollar performance. Sly also covers the woodsballer with several of their products that can bring an extra step into your scenario game too.
The Sly Profit Mask is a Super Sleek Genius of Design
Price Check: GO!
Many manufacturers overlook some of the important basic elements of a paintball mask. Take for instance the Profit's strap, it's a micro-stitch double design with high resolution graphics that are build to resist fade. The strap also takes adjustment to the next level and allows a more effective range of angle to fit your head to promote better load displacement and a more secure mask fit when you are running. It's these little things that make the Sly Profit give those little extra advantages on the field.
The mask's shell is constructed using a thermal vulcanizing process that molds the soft rubber into its form. The density levels are optimized for bouncing paintballs, yet, offering the player full protection and long term durability.
Goggle lens and frame have been the focus for the Profit System. A polycarbonate injected lens provides an extreme level of crystal clear resolution with absolute minimal distortion of the surface. The lens frame is UV treated to prevent the sun from breaking down the tough polyamide material that can cause micro fractures in other manufactures goggles. The lens can be quickly accessed between rounds by using the lightning fast release system for removal and cleaning.
A hybrid ventilation system not only helps deliver fresh air, vents out heat and moisture, but also allows you to communicate with out restrictions. After all, communication is the key to a successful paintball player.
The mask system is available in: red, blue, black, gray, white and camo. The Sly Profit Paintball Mask has several lens tints available: clear, tint, yellow and chrome.
Sly Paintball really stepped up when developing this mask. It will serve you for many years with great visibility and protection.
Check out a Sly Profit Paintball Mask now.
Also see:
Paintball Masks
Goggles Mask Systems
Vforce Grill Paintball Mask System Review
Camo Paintball Masks - New and Used Prices

Posted by Redwood on 04/19/2010