Tippmann Carver One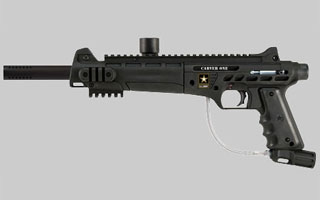 Check Current Price: Go!
Introducing the new Tippmann Carver One paintball marker. It's a great addition to Tippmann's US Army line up of weapons. Last year they released the very functional Project Salvo and it has made a huge impact in paintball. The Carver One is similar in it's base design, but offers a more affordable price for an entry level player. It can be purchased as a standard semi-auto mechanical trigger or with the upgraded Tippmann E-Trigger. The E-Trig can be switched to three firing modes: semi-auto, 3 shot burst and full auto.
Tippmann offers the entry level player and affordable
choice with the US Army Carver One Paintball Gun.
This paintball gun allows you to make a small investment up front and build onto its versatile platform as you can afford it. The Carver One's body includes several possibility rails for you to possibility the marker as you see fit when building your playing style. It has a base military look with an endless possibility of add-ons.
This gun at its core is essentially a Tippmann 98. It's internals, barrel threads and other add-on possibilities all center around the Tippmann 98. This also includes the durability and reliability of this gun. There are many paintball manufacturers that product aftermarket parts and accessories for this gun platform. It can be made to look like almost any type of military gun available. The customization is limited only by your mind.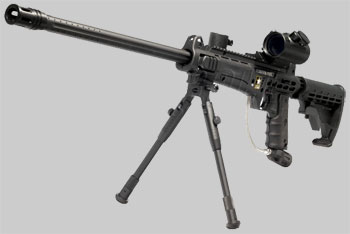 The base gun itself comes with the usual plate of features that Tippmann has developed over the years of player feedback and field testing with their other popular products. It has a light weight aluminum cast body with the same style of internals found in the 98 Custom, A5 and the standard X7. The typical durable matte black finish is applied and can help the marker blend in well with most of your surroundings. The usual long lasting heavy duty stainless steel braided bottom line is included. A stock and foregrip can be purchased separately from Tippmann specifically for the Carver One.
Tippmann is marketing the Carver One under the US Army name. As with all of the US Army paintball guns, the C.A.R.V.E.R. name is directly related to a term used by the Army. The Carver name is an acronym that means: Criticality, Accessibility, Recoverability, Vulnerability, Effect, and Recognizability. It's used while setting up mission requirements.
So, if an affordable paintball marker with four built in picitanny rails, built in sling mounts, an 8.5 inch quick thread barrel and a host of other well tested durable features sounds good to you, check out the new Tippmann/US Army Carver One(available for purchase early March 2010).
Check Current Price: GO!
Posted by Redwood
Also see:
Tippmann Carver One Sniper Rifle
Carver One Product Poster
US Army Project Salvo Paintball Guns by Tippmann Products
Tippmann US Army Project Salvo Elite Sniper
US Army Paintball
The New Tippmann X7 Phenom Paintball Gun