Kingman Spyder Paintball Guns
Kingman MR1 Tactical Gun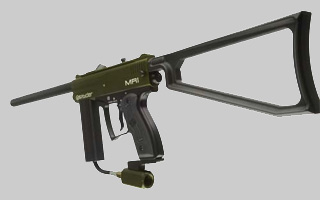 Price Check: Go!
Kingman presents the MR1, it's a great entry level to mid range marker that can be upgraded to shoot like a serious opponent eliminating piece of hardware. The price of this marker has dropped in the last year making it affordable for anyone on a tight budget that wants to play serious scenario paintball. This paintball gun usually available for under $90. Definitely a recommended gun.
Kingman Spyder MR4 Gun
Price Check: Go!
The well known Spyder MR4 was born onto the paintball scene with much appreciated tactical rail space for players to mount sights, bipods and what ever milsim items they find helpful when blazing into battle. The MR4 is home to Kingman's new EKO Valve system that reduces kick and sips air. It's a semi-auto gun that comes with a 200 round hopper, full shoulder stock, sights, and a clamping feed neck.