RAP4 Tactical Vest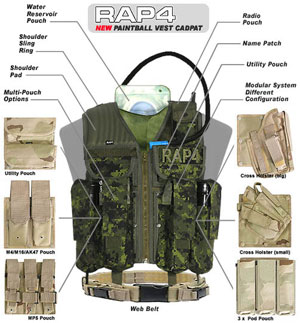 The RAP4 Tactical Vest lineup includes the popular, Strikeforce, Counterstrike, Tactical Ten, and MOLLE base vests. These vests can be configured for paintball, airsoft, fishing, camping/hiking, or any number of sports and hobbies.
Having everything at fingers reach is one of the great things about a tactical vest. It can make carrying a backup weapon, like a paintball pistol, very easy. Most vests are designed to support a hydration pouch and any number of smaller pouches.
Probably the most common use for a vest is to replace your harness. Carrying your tank and pods in a load dispersing rig can make your day of paintball more enjoyable. Once you have the basic necessities secured then the vest then can be added onto with a number of other conveniences.
Certainly the look and feel of a good quality vest will add realism to scenario events. The tactical vests are available in any popular camo design to match your apparel or terrain needs.
RAP4's Strikeforce Tactical Vest is one of their more popular models designed specifically for the needs of a hard fighting milsim paintball player. The Strikeforce is a MOLLE compatible vest that can be customized with pod pouches and pockets built for paintball air tanks or any number of specialty pouches.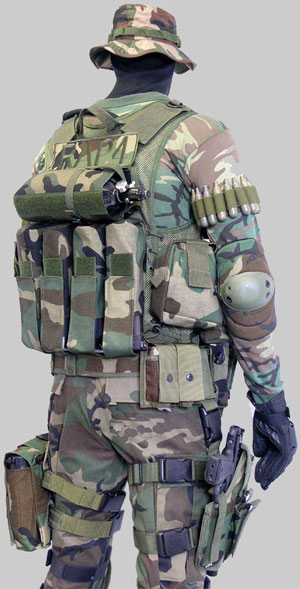 RAP4 Tactical Ten Vest
If you're on a tighter budget seeking a quick solution for a tactical paintball vest, then the Counterstrike may be the model you're looking for. It is constructed from a load bearing heavy duty denier material with a removable foam lining that helps keep the vest comfortable when loaded down with your favorite paintball gear. Shoulder and waist Velcro straps keep the whole rig secure to your body while running through the perils of a tough paintball game.
One of the first vest systems ever designed specifically for paintball was RAP4's Tactical Ten Modular system. Its interchangeable design can be setup for specific paintball player rolls(sniper, assault, commander, etc). The Velcro and snap panels can be moved around to optimise the vest for the lightest weight configuration to fit your playing style.
The MOLLE(Modular Lightweight Load-carrying Equipment) base vests can be configured with a huge selection of pouches, pockets, and tactical add-ons. Its design makes it compatible with any retailer's products who conform to the MOLLE(or PALS - pouch attachment ladder system) standard. This allows you to design a tactical vest that isn't limited by brand or manufacturer.
If you're considering a RAP4 Tactical Vest to improve your paintball game visit their site to see the full selection and options available.
Clearance Vests (Limited Availability)
Tactical Ten Vests (Typically $55-$95)
Strikeforce Vests (Typically $40-$65)
Counterstrike Vests (Typically $20-$40)
---
Posted by Redwood on 01/10/2013(updated 11/17/2014)
Also see:
RAP4 Strikeforce Vest
Tactical Paintball Vests
RAP4 Coupon Codes