Wolfpack Paintball Team
Neenah, Wisconsin 2013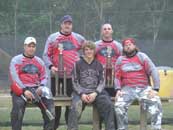 Welcome to Wolfpack Paintball Team's home website. We are a committed five man amateur team formed Spring 2003 based out of the Neenah, Wisconsin area. Our goal is to enjoy and promote the sport of paintball by playing tournaments and scenario events at Wisconsin fields. We started off the 2003 season as a new team and played many tournaments with an aggressive approach toward learning. By the end of the 2003 season we were placing consistently in the top three at every event we entered. Our team has grown substantially over the years as a dynamic entity. The 2013 season will be an opportunity for Wolfpack to prove ourselves as a mature dedicated area team working to expand our impact in paintball. We thank you for visiting our website and hope to meet you at our next tournament. ~ Team Wolfpack
---
[March 29, 2013] - Yikes! What happens when you take a Tippmann X7 Phenom and add functional M16 style upgrades? You get a sick looking scenario marker that shoots straight and has the appearance of a real milsim paintball gun. See more: Tippmann X7 Phenom M16 Paintball Marker
---
[March 27, 2013] - The Planet Eclipse Etha definitely aroused an enthusiastic group of fans; and rightfully so. This affordable marker is laying some serious paint downfield at tournaments and scenarios alike. We were ultra impressed when PE first released the Etha, but now it's getting more upgrades and colors. See more: PE Etha HDE Camo Marker
---
[March 15, 2013] - Welcome the long awaited RAP4 DMAG! For those of you who are fans of RAP4, and the T68 marker, you are well aware that it's been a long wait since the announcement of the new magazines conception and RAP4 actually being able to get the mags for sale.
---
[March 7, 2013] - Do you have a Tippmann Project Salvo paintball gun that you want to add some fun scenario type upgrades or turn into a stealthy sniper rifle? Check out our article on Project Salvo Upgrades.
---
[March 4, 2013] - We're always on the lookout for great paintball deals. We often evaluate some of the better paintball gun package deals for what we consider the best options. These three package deals are the best in their brand of what we have found for sale at affordable prices. Wolfpack's picks for the Best Paintball Gun Packages For Sale Under $250.
---
[February 26, 2013] - The long awaited DMAG is now available at RAP4. The first release of DMAGs is available in 14 round 10 pack, a 20 round 10 pack, or a MKP(and MKP II) mag-well upgrade with ten 20 round magazines. Get your RAP4 DMAGs now!
---
[February 25, 2013] - JT is very well know for producing some of the highest quality masks in paintball. The Spectra Flex 8 Mask is one of their most popular and a great choice for any serious paintball player, or weekend warrior, looking for a high quality mask.
---
[February 22, 2013] - Finding an extremely capable tournament level marker for under $250 is almost unheard of these days. The GOG eXTCy Paintball Gun shoots 20 balls per second and boasts a full array of features usually found on much more expensive paint markers.
---
[February 21, 2013] - If you're looking for a great deal on an entry level marker package, we recommend the Spyder Victor Player's Pack. It's a well rounded package deal for players trying to make the break from rental equipment and wanting their own gear to maintain. It includes everything, except paintballs, to get started.
---
[February 21, 2013] - Paintball is an ever changing sport with new innovative equipment being designed and released every year. This tends to produce a constant flow of Used Paintball Guns and Gear for sale.
---
[February 10, 2013] - When playing paintball there are many different types of games you can play. Probably the most common is elimination; where you eliminate all the players on the opposing team to win the match. Different types of flag capturing(or hanging) games are also very common. What other types of games and variations are there on these commonly played varieties?
---
- Black Ops Paintball will be holding an event to raise money for William Stewart. He was injured while serving his country on July 1st, 2012. Please gather your friends and family to play this fun day of paintball that includes 5-man speedball and a big game scenario event! All About Willie Charity Event
---
- All CORE paintball products are 10% off for a very limited time. Use coupon CORETEN at checkout to receive this discount. It's valid through midnight January 1st, so don't hesitate if you're interested in any of these CORE paintball goodies!
---
- Most of us Wolfpack players have owned a Tippmann A5 and built the marker up from a stock plinker to a full on milsim scenario weapon. So we've decided to post a new series of our favorite Tippmann A5 Upgrades and Modifications. This page covers the basic outline of what we'll be covering in the future as we add our list of top upgrades from each category.
---
- 50% Off Christmas Paintball Shipping! There is still time to buy markers and gear for your favorite paintballer. Zephyr has 50% off Fedex 2nd & 3rd day shipping if you shop now.
---

[December 07, 2012] - New Facebook Page photo upload to check out. Thought it was a fun picture of an X-Ray view to show the insides of a Tippmann A5. It demonstrates the tube angle of the Flatline barrel and all the other internals of this marker.
---
- Cyber Monday Paintball Deals are going strong until midnight Monday November 26. Find Paintball Gun Package Deals from Tippmann, Spyder, US Army, and all your favorite paintball gear at deep discounts. Many of the online paintball stores are offering reduced minimum order amounts to kick in Free Shipping. If you're shopping for a paintballer for Christmas, these are the types of seasonal discounts that could save you a lot of money now.
---
- All day we are posting Black Friday Paintball Deals. If you see any great deals we've missed, be sure to send them in using our contact form.
---
- A lot of people ask what the requirements are to start a paintball team. If you like paintball and have friends who play, you already have the difficult part done. Organize one or more friends and ask them to start the team with you. You don't need a permit or a magic fairy to give some kind of blessing. Simply get together with other like-minded player(s) and commit to being a team.
---
- Kingman's newly redesigned Spyder Hammer 7 Pump is a magazine fed(or hopper fed) pump action paintball marker. Kingman first released the original version of the Hammer 20 years ago. The Hammer 7 has been upgraded with the function and components of a modern marker.
---
- Empire is due to release the new Scion Paintball Loader later this month. It's essentially a more efficient Halo with speed adjustments, some toolless access improvements, and eyes that are more forgiving towards different paintball shell colors.
---
- Come join in The Rise of Atlantis Scenario Event at Wayne's World of Paintball on December 1st & 2nd in Ocala, Florida. It's the survival of the fittest in this post apocalyptic event depicting the crash of society after the end of the Mayan Calander event delivers havoc on society.
---
- The new Dye dual(hopper/magazine) fed, First Strike capable, marker is coming. It can be switched from hopper fed to magazine fed on the fly with a sliding mechanical button. Read more about the Dye Assault Matrix(DAM)
---
- See why the Tippmann Crossover is designed to serve the player who wants a marker for any type of paintball play. Be it woodsball or speedball the Crossover is built to conquer either engagement and do it well. Read more about the Tippmann Crossover Paintball Marker.
---
- Save Phace has been blowing our minds with their imaginative looking masks. If you're interested in scaring an opponent completely off the paintball field, Save Phace may have the mask for you. For this review we put the OU812 Carnage model into action. We found it horrifyingly repulsive - in all the right ways. Read about our experience with the Save Phace OU812 Mask.
---
- The Virtue Spire Loader is a complete redesign on the way loaders work and play. The totally toolless design breaks down effortlessly for a quick service inspection or a panicked cleaning session between tournament rounds. Its low profile stance atop your marker helps maintain a tiny target signature when dancing through a hail storm of ill intended paintballs. The innovative internals are lightweight, simple, and self optimizing.
---
- We apologize for sending out a failed newsletter this morning. Somehow our template got sent out instead of the actual newsletter. It's since been repaired and shouldn't be a problem again. Thank you for your patience and understanding.
---
- If you're just starting out you may not know what to expect when you journey to the field and are faced with paintball rental equipment. This guide will answer some of the more common questions and concerns we get asked about going to the field without your own equipment.
---
- Tippmann Sports and Challenge Park Extreme(CPX) present the return of the Windy City Classic on Sunday August 19th.
---
- Joining a paintball team can be a fast fun way to meet new players and increase your learning curve. So many people want to start their own team that there tends to be an overload of teams searching for players. Finding a team to join is easy. Here are a few ways to start doing it: How To Join A Paintball Team
---