Wolfpack Paintball Team
Neenah, Wisconsin 2013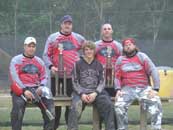 Welcome to Wolfpack Paintball Team's home website. We are a committed five man amateur team formed Spring 2003 based out of the Neenah, Wisconsin area. Our goal is to enjoy and promote the sport of paintball by playing tournaments and scenario events at Wisconsin fields. We started off the 2003 season as a new team and played many tournaments with an aggressive approach toward learning. By the end of the 2003 season we were placing consistently in the top three at every event we entered. Our team has grown substantially over the years as a dynamic entity. The 2013 season will be an opportunity for Wolfpack to prove ourselves as a mature dedicated area team working to expand our impact in paintball. We thank you for visiting our website and hope to meet you at our next tournament. ~ Team Wolfpack
---
[December 6, 2013] - The Christmas season is one of Team Wolfpack's favorite times of the year. Let us help recommend gifts for your special paintballer that they will fall in love with. This is our 2013 Christmas Shopping Guide.
---
[November 29, 2013] - Every year we watch the Black Friday Paintball Deals and post them all to one page. Don't miss out on one of the best days for paintball shopping.
---
[October 18, 2013] - Okay, so you and your friends are paintball aficionados and wish to take your love for the game to the next level by putting together a high school sanctioned paintball team. Let us take a look at the things you need to consider so that you may create a compelling case for approaching your high school authorities with confidence.
---
[August 30, 2013] - Whether you're looking for a paintball app to play while sitting in a waiting room or to use during real-life gameplay, you can take your pick from a seemingly endless array of options. It seems like new paintball apps debut every day, but how useful or fun are they? Read more about Paintball Apps for Your SmartPhone & Tablet.
---
[August 16, 2013] - Empire Paintball is giving free field passes to new players. If you are going to the field for the first time, or have a friend you'd like to introduce to paintball, Empire will pay for the field fee, rental equipment and paintballs at participating fields. Click on over to Empire's site to read the details: Free Rookie Pass.
---
[August 13, 2013] - If you're bored or wishing you were playing paintball instead of sitting in front of your computer, take a click over to our free paintball games and take your frustrations out. There are trigger speed test games and shoot 'em up games for you to play.
---
[August 12, 2013] - Ninja took the sting out of stepping up from CO2 to HPA with their aluminum 48ci 3000psi tank. It's one of the most popular and reliable tanks in its class outperforming similar, more expensive tanks. Read more about the Ninja 48ci 3000psi Aluminum Tank.
---
[August 5, 2013] - Paintball's most popular starter marker now comes as a complete kit with everything you need to get on the field playing. If having your own equipment to use and maintain is what you're looking for, the Gryphon MEGA Set should be on your list.
---
[July 26, 2013] - We just updated our available sponsorships page. Take the time to submit your team's resume to these potential sponsors and get some support this season. Paintball Sponsorships
---
[July 25, 2013] - The fastest gravity feed loader in the sport is affordable and reliable. The Proto Primo Loader means you never have to worry about dead batteries on the field or the need to haul spares in your gear kit.
---
[July 19, 2013] - Did you see this: Paintball-Online Free Shipping Offer? No minimum order amount! Going on right now through July 31.
---
[July 18, 2013] - Paintball is an expensive sport. If you're a regular player buying paintballs every week can quickly become overwhelming. Shopping for a good deal often ends in "seconds" or typical white box cases of paint that could ruin your day. Cheap paintballs tend break in your hopper long before you even get a chance to shoot them. Check out the Core White Box Paintballs.
---
Wolfpack News Archives(going back to 2003!!)