Wolfpack Paintball Team
Neenah, Wisconsin 2014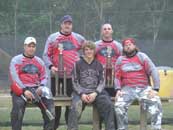 Welcome to Wolfpack Paintball Team's home website. We are a committed five man amateur team formed Spring 2003 based out of the Neenah, Wisconsin area. Our goal is to enjoy and promote the sport of paintball by playing tournaments and scenario events at Wisconsin fields. We started off the 2003 season as a new team and played many tournaments with an aggressive approach toward learning. By the end of the 2003 season we were placing consistently in the top three at every event we entered. Our team has grown substantially over the years as a dynamic entity. The 2014 season will be an opportunity for Wolfpack to prove ourselves as a mature dedicated area team working to expand our impact in paintball. We thank you for visiting our website and hope to meet you at our next tournament. ~ Team Wolfpack
---
[August 1, 2014] - Not that you need many reasons, but here are 10 Reasons to Play Paintball Games Online. Hope you have a lot of time to waste. ;-)
---
[July 31, 2014] - RAP4 is having a clearance sale on their ACU camo apparel for a limited time. We normally don't jump for sales like this but they are offering up to 65% off apparel and related tactical ACU systems. If you've been looking to update, improve, or add camouflage to your gear it would be worth a look. Browse the sale now: ACU Sale
---
[July 21, 2014] - Every year there are at least a few new paintball masks or new versions of existing models. Some of them are interesting and functional, others are less than exciting. One thing for sure is that there will probably be an increasing trend in the pricing of masks. Read more here.
---
[July 17, 2014] - The time has come for those of you interested in magfed paintball games. RAP4 is offering 10 free with the purchase of their MK5 converted markers. More from RAP4
---
[July 8, 2014] - We're often searching for ways to improve our paintball game. We've made a lot of mistakes and developed many bad habits. Although we aren't a top pro team, we certainly can share some of the experiences we've learned from. We hope these ideas can help you to become a better player and enjoy the game more. Top 10 Ways To Improve Your Paintball Game.
---
[July 1, 2014] - Splat Tag is hosting the Jungle Rumble series again this summer with 7 events scheduled for the last Sunday of each month. See more about the Jungle Rumble Scenario Event.
---
[June 30, 2014] - There are a lot of different mask brands/models available to choose from. Be sure to take your time and examine your specific needs before making your purchase. Remember to try on as many masks as possible and ask questions to help you discover the best paintball mask for you.
---
[June 26, 2014] - Commando Paintball Sports is having a Pirates of the Caribbean scenario event to celebrate their pirate ship field. See more about this even here.
---
[June 19, 2014] - People often search for cheap paintball guns and ask us which is the best one. There is no great answer to that, but a little guidance may help you make the decision for what will be a good marker for you. read more here
---
[June 5, 2014] - Tippmann's TCR is their latest entry into magfed paintball. The military style scenario marker is american made and being sold for around $350 at most retailers. Future upgrades for its modular design include body kits, air systems, stocks and feed system configurations. read more here
---
Wolfpack News Archives(going back to 2003!!Warning: Huge page file size.)