Wolfpack Paintball Team
Neenah, Wisconsin 2014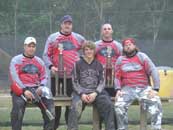 Welcome to Wolfpack Paintball Team's home website. We are a committed five man amateur team formed Spring 2003 based out of the Neenah, Wisconsin area. Our goal is to enjoy and promote the sport of paintball by playing tournaments and scenario events at Wisconsin fields. We started off the 2003 season as a new team and played many tournaments with an aggressive approach toward learning. By the end of the 2003 season we were placing consistently in the top three at every event we entered. Our team has grown substantially over the years as a dynamic entity. The 2014 season will be an opportunity for Wolfpack to prove ourselves as a mature dedicated area team working to expand our impact in paintball. We thank you for visiting our website and hope to meet you at our next tournament. ~ Team Wolfpack
---
[July 21, 2014] - Every year there are at least a few new paintball masks or new versions of existing models. Some of them are interesting and functional, others are less than exciting. One thing for sure is that there will probably be an increasing trend in the pricing of masks. Read more here.
---
[July 17, 2014] - The time has come for those of you interested in magfed paintball games. RAP4 is offering 10 free with the purchase of their MK5 converted markers. More from RAP4
---
[July 8, 2014] - We're often searching for ways to improve our paintball game. We've made a lot of mistakes and developed many bad habits. Although we aren't a top pro team, we certainly can share some of the experiences we've learned from. We hope these ideas can help you to become a better player and enjoy the game more. Top 10 Ways To Improve Your Paintball Game.
---
[July 1, 2014] - Splat Tag is hosting the Jungle Rumble series again this summer with 7 events scheduled for the last Sunday of each month. See more about the Jungle Rumble Scenario Event.
---
[June 30, 2014] - There are a lot of different mask brands/models available to choose from. Be sure to take your time and examine your specific needs before making your purchase. Remember to try on as many masks as possible and ask questions to help you discover the best paintball mask for you.
---
[June 26, 2014] - Commando Paintball Sports is having a Pirates of the Caribbean scenario event to celebrate their pirate ship field. See more about this even here.
---
[June 19, 2014] - People often search for cheap paintball guns and ask us which is the best one. There is no great answer to that, but a little guidance may help you make the decision for what will be a good marker for you. read more here
---
[June 5, 2014] - Tippmann's TCR is their latest entry into magfed paintball. The military style scenario marker is american made and being sold for around $350 at most retailers. Future upgrades for its modular design include body kits, air systems, stocks and feed system configurations. read more here
---
[March 28, 2014] - The US Army Project Salvo still remains one of our favorite scenario paintball markers. It's very functional and allows us to upgrade it to new standards. The Tippmann Custom 98 platform is the Project Salvo's base, and is a proven performer with decades of experience to build on.
---
[March 25, 2014] - The warmer weather is just around the corner! Paintball-Online has some new equipment on sale that will make your 2014 a happy experience on the field. From tactical gear and apparel to new high tech markers and accessories. PBO New Gear Markdowns
---
[March 19, 2014] - Magfed paintball is really taking off. There are new leagues forming and fields that are running magazine only events. The interest in these new opportunities of play is increasing and creating a new genre of paintball. Read more about Magfed Paintball.
---
[January 30, 2014] - We are having some errors with our site loading correctly. We are aware of the issues and working on it. Thank you for your patience. *Update* After making things much worse for a while, we seem to have it sorted out. We've also decided Redwood needs to go back to school for web development and design. Haha, sorry Redwood!!
---
[January 23, 2014] - Selling your used paintball equipment can be fun and easy to do. Getting top dollar for your gear can help pay for upgrades or newer versions of markers and apparel. Read more about where to sell your used gear.
---

[January 20, 2014] - Destruction of another Holographic Weapon Sight.
---
[January 17, 2014] - Register early for Living Legends VII to be entered in a giveaway that includes an Empire Vanquish, AXE, BT D'Fender, or a TM15. This event is one of the largest paintball scenarios in the world. It takes place May 16-18, 2014 at CPX Sports in Joliet, Ill.
---
[December 6, 2013] - The Christmas season is one of Team Wolfpack's favorite times of the year. Let us help recommend gifts for your special paintballer that they will fall in love with. This is our 2013 Christmas Shopping Guide.
---
[November 29, 2013] - Every year we watch the Black Friday Paintball Deals and post them all to one page. Don't miss out on one of the best days for paintball shopping.
---
[October 18, 2013] - Okay, so you and your friends are paintball aficionados and wish to take your love for the game to the next level by putting together a high school sanctioned paintball team. Let us take a look at the things you need to consider so that you may create a compelling case for approaching your high school authorities with confidence.
---
Wolfpack News Archives(going back to 2003!!)