Paintball Sniper Rifles
RAP4 T68 M4 Carbine Sniper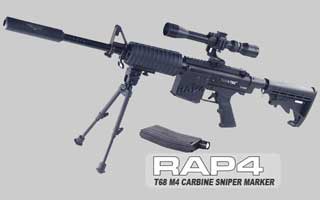 RAP4 is regarded as one of the top manufacturers of milsim markers. This M4 Carbine sniper rifle is a reflection of their commitment to the sport. This marker is designed to fit the role of the tactical sniper who may also need to get dirty in a heavy gun fight. The bipod, magnified optics, and sniper barrel help deliver the one shot one kill blow. The magazine feed and flex air system keep the marker compact and highly functional.
RAP4 T68 UDSF Sniper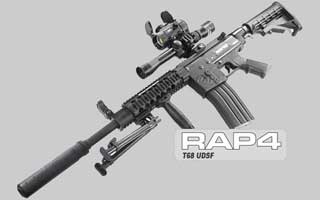 This custom built marker will put you in battle able to face any situation. The magnified optic give you the ability to reach out and hit long range targets. The Reddot sight opens up your view at closer ranges. The flip up "iron" sights provide snap shooting and quick reaction shots. This marker can be customized from RAP4 with air options, mag only, or the Split Fire system to load regular paintball in the loader and Firststrike rounds in the mag.
Valken SW-1 Rifleman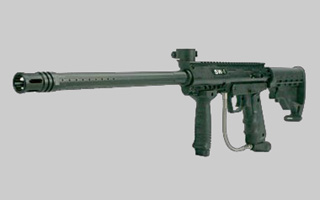 Valken comes in with a super affordable sniper marker that can be upgraded as your budget allows. Standard equipment includes a 14 inch tactical barrel with a muzzle defuzzer to hide the sound from your shots. The collapsible stock contributes stability to the platform for pinpoint accuracy while in stealth mode. This marker has plenty of top rail space for whatever site you want to mount.
Valken SW-1 Elite Sniper Package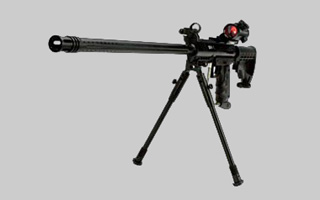 Step up to the Elite Sniper Marker Package from Valken featuring their SW-1 platform. The Elite comes with a 20 inch tactical sniper barrel, a folding bipod, collapsible stock, and a high visibility red dot site mounted on a 45 degree offset mount to clear your loader. This marker will put you right in the action as a fully functioning paintball sniper. The SW-1 platform has many upgrades to customize for your playing style.
Tippmann A5 Designated Marksman
Forget about snap shooting with this marker. The Tippmann A5 Designated Marksman Gun will put you out of reach from your opponents return fire. You can stand in plain view and pick them off one at a time while they try to get close enough to hit you. Ah, the simple things in life are so much fun. Your team will designate you as 'Team Hero' when they see how accurate and efficient you are with this gun.
Tippmann 98 Custom Sniper Gun
Classic beauty with modern performance melts this awesome build up into a battle worthy milsim weapon that will help you be a respected contributing member of your paintball team. With all of the well known fit and function that comes standard with the Tippmann 98 Custom and with the high performance sniper upgrades, this marker will serve with you on the field for many years to come.
Tippmann X7 Phenom Rifleman
No doubt the Tippmann X7 Phenom brings some new and appreciated elements to the milsim paintball marker world. Now take that marker and set it up with balanced parts to create an accurate sniper weapon and you have an unstoppable paintball gun. The Phenom Rifleman build is one of our favorite guns on the field and can create quite a stir to talk about too.
Tippmann X7 Phenom Sniper Rifle
If this paintball gun doesn't look like it can reach out an knock off someone, you need glasses. The Tippmann X7 Phenom Sniper build up by Core has created a BOOM on the field. Although, it does have the appearance of a anti-tank rifle, it can help you sneak around the paintball field and eliminate your opponents one by one with stealth and precision.
Tippmann X7 Phenom Elite Sniper
Invincibility is sitting comfortably up in a window with this paintball gun taking out a squad of an opposing team as they approach, but aren't close enough to return fire. The Elite Sniper has a smooth working bi-pod and a highly accurate site. Busting out with a burst of fire or restrict yourself to a one shot one kill ratio is up to you with the Phenom's trigger system and improved internals.
BT4 TM15 Elite Sniper Gun
Temporarily Discontinued
The BT4 TM15 paintball gun has proven to be an awesome scenario weapon on its own. Add some serious sniper upgrades to balance out its performance and you have a killer milsim weapon capable of carrying out missions that other guns would fall short of. Putting this BT4 TM15 Elite Sniper Gun in your hands enables you to become the ultimate hunter on the paintball field!
Tippmann X7 Designated Marksman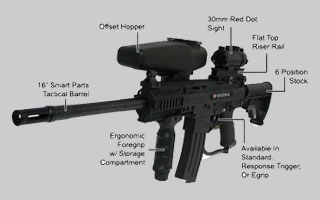 Temporarily Discontinued
Give yourself the right of way at the paintball field with the Tippmann X7 Designated Marksman Paintball Gun. This thing is packed with so many features that we can't even begin to list them. Obviously, the Tippmann X7 is known as one of the greatest scenario markers on the planet, add a load of top notch scenario/sniper upgrades, and you have an unstoppable milsim weapon that can eliminate opponents by the dozen!
Tippmann X7 Sniper Gun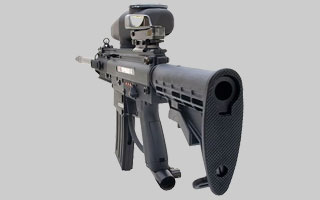 Temporarily Discontinued
Some time keeping it simple is the best route. This scenario marker build leaves some room for you to customize this X7 into a milsim weapon of mass destruction. Setting up a Tippmann gun to compete with other snipers is an easy task. Give yourself a head start right from the go with a well balanced rifle that will serve you well in the most demanding battle that you will encounter.
Tippmann X7 Elite Sniper Rifle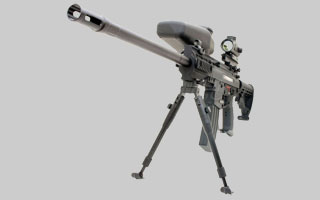 Temporarily Discontinued
Imagine finding a nice little hiding place out of the line of site and spending the day up there slowly picking off opponents. This long range eliminator with set you comfortably up to do just that. Its sleek form and boosted performance all stem from a marker system that contains a perfect balance of performance and efficiency. If you want a light weight high performance sniper rifle, you've found it.
Check Current Price and Availability of: Sniper Rifles