Cheap Paintball Guns Under $50
Find Cheap Paintball Guns Under $50 that would be perfect for a newer player looking to start playing with their own equipment. Check out the Top 10 Best Selling markers that will help you make a break from rental equipment charges. These affordable paintball markers are your way to quickly becoming a paintball sniper or speedball star.
Note: Often these less expensive guns have a limited availability. Most of the online stores that sell cheap paintball guns offer free shipping on orders of $100 or more. That works well if you're buying the gun with a mask, tank, hopper, and a case of paintballs. Some of these guns don't require a tank or loader. That makes them even more affordable and will keep you playing longer!
JT SplatMaster Z300 Sniper($50)
If you're looking for an affordable entry level marker that can have you playing sniper the SplatMaster may be the designed just for you. The .50 caliber paintballs are more accurate at closer ranges and are less expensive. The side cocking spring action eliminates the need to buy high priced air tanks and go looking for CO2 fills. Just buy the gun, some balls, and a protective mask to get started playing. The smaller .50 paintballs, with a velocity of 110-150 feet per second, don't hurt like the .68 markers. The butt stock is adjustable to fit players of all different sizes. JT includes a reusable target for practice, a manual, and a safety barrel plug.
JT Raptor Pump($20)
The Raptor pump is a classic that many of us started out with. It's a super budget minded paintball gun that provides a lot of fun. You'll need .68 caliber paintballs and CO2 12 gram cartridges to play. The simple design makes it low maintenance with the attached loader and a pump mechanism. As one of our cheapest price points recommendations the Raptor is built for the beginner player. If you're looking to get up and playing for minimal money this is the gun for you.
Spyder Victor Refurbished($50)
This marker will have limited availability due to it being refurbished but it is one of our favorite guns under $50. This semi-auto Victor shoots well in the woods or at a speedball field. It does require a loader and tank to operate, but the Spyder name had been around since the early days of paintball. There are many upgrades for Spyder products and this marker can be improved to fit a players style of game play as they progress in the sport. Some of the top features include semi-auto action, a two finger trigger for rapid fire, a ported 10 inch barrel, steel braided bottom line, and capabilities of shooting on CO2 or HPA.
JT SplatMaster z90 Pistol($20)
The Z90 Pistol doesn't require a loader/hopper, an air tank, or batteries. The rear cocking action loads the paintballs from the internal magazine to keep the gun firing and the player in the heat of the action. This pistol is a great way to get someone started in paintball without the expense of add-on equipment - although eye protection is required. The Z90 shoots the SplatMaster .50 paintballs that don't hurt like other paintball ammo. An optional holster is available from JT but not required.
JT SplatMaster Z100 Pistol($30)
JT comes in again with another hot pistol. The Z100 shoots the easy SplatMaster non-staining ammo. This pistol offers a lower tactical rail that may work for some popular accessories. A removable magazine adds realism to removing and reloading. The internal spring fired system shoots 100 feet but doesn't require an air tank or maintenance. This is a fun paintball gun for beginners to start playing cheaply. JT is a trusted name in cheap paintball equipment.
---
**NOTE: Markers below here may no longer be available.
Spyder Aggressor Paintball Gun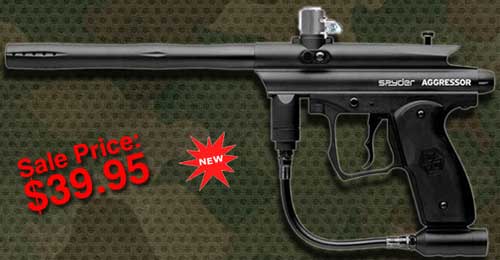 For an extremely limited time you can get one of the best deals in paintball. The Kingman Spyder Aggressor is a very reputable marker that has the ability to be highly upgraded as your budget allows. The common Spyder barrel threads, that the Aggressor paintball gun has, makes countless barrels available for you to choose from. Quickly screw on an 18" sniper barrel for stalking in the woods, a short ported barrel for speedball, or any other barrel that fits your build. This marker comes from the factory as a completely refurbished paintball slinging machine ready to put you in charge of dominating the field. These don't last long once they're available, so get yours NOW!
JT Cybrid Paintball Gun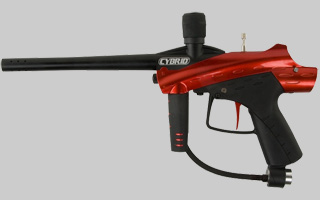 Check Price: JT Cybrid
JT saves the day with the Cybrid paintball gun. It's a remanufactured marker at a super affordable price. If you are looking to make a break from rental equipment, this may be the gun for you. It has some really great features that will allow you to upgrade it. Want a killer sniper barrel? No problem, the JT Cybrid has autococker barrel threads. It also comes with a two finger blade style trigger so you can unleash a rope of paintballs on your opponents. It also operates at a lower pressure than other guns in this price range to help conserve air and give you more shots per air fill. The grips are ergonomically designed to help you hang onto the marker even if your hands get wet or covered in paint. That should help you to perform some serious bunker dives when the time calls for it.
ViewLoader High Voltage Paintball Gun(Factory Refurbished)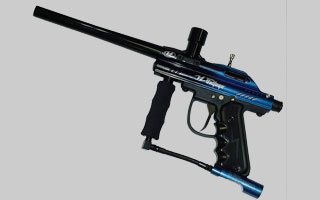 (Not Currently Available)
ViewLoader may be most popular for their loaders and hoppers, but they make a mean paintball gun too. Enter the High Voltage Marker! It is one of the few paintball guns under $50 that is capable of fully automatic firing. This gun has a mode selector and you can choose from semi-auto, 3-shot burst or full auto. It will shoot up to 13 balls per second in semi-auto and 3-shot burst and up to 9 rounds per second in full auto.
The High Voltage gun has a sweet two tone fade to black paint job in a high luster anodizing that anyone would be proud to show off. They even built in a gas through front grip with a strong bottom air line.
Brass Eagle T-Storm Paintball Gun(Factory Refurbished)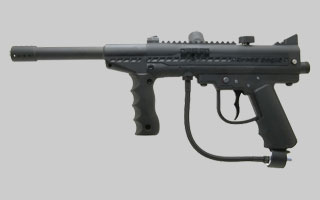 Check Price: Brass Eagle T-Storm
What is the biggest thing we love about this great paintball gun that's under $40? It has Spyder barrel threads! That means there is a huge selection of aftermarket barrels to trick this thing out. Sniper barrels, ported heavy gunner barrels and just about any other design you are looking for is available to screw into the Spyder threads.
The T-Storm was designed by Brass Eagle to be a scenario paintball gun right out of the box. It's appearance gives a milsim look and has a top molded tactical rail with an offset feed tube so you can mount your favorite site.
The composite material used to construct this marker is tough and light weight. It has a double trigger to allow for a higher rate of fire. Field strip pins allow you to quickly break down the gun for cleaning or field repairs. This gun operates well with CO2 or HPA.
JT Stealth Paintball Marker(Factory Refurbished)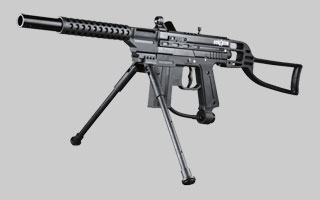 Note: Gun shown with optional upgrades
Check Price: JT Stealth
Who doesn't like JT? They have been making some of the coolest paintball products for over a decade. The JT Stealth is definitely a cool paintball gun. Its basic design says serious scenario player. It has a magazine and a cooled barrel shroud that looks like you could fire a huge amount of paintballs down field. It's a semi-auto firing mode with a ported barrel for noise suppression and a double trigger for that tournament "high rate of fire" feel. JT really stepped up here and brought us a great gun for entry to mid level players that are seeking an affordable jump from rental equipment.
Stryker STR-1 Players Pack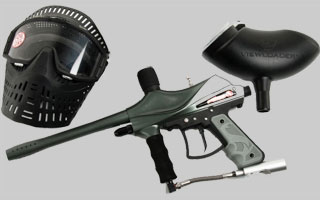 Check Price: Stryker STR-1 Pack
Stryker has been making affordable paintball equipment for a while now. They produce some of the best quality markers in the low priced range. The STR-1 marker is semi-auto and operates great on CO2 or HPA. It comes with a 200 round gravity feed ViewLoader hopper, a JT goggle system with a single lens, a Stryker barrel plug, a VL squeegee and a prefilled Brass Eagle CO2 tank that will get you up and running as soon as you get it. It's truly an affordable players pack and will get you playing paintball without breaking the bank.
WGP Trilogy Sport Autococker Paintball Gun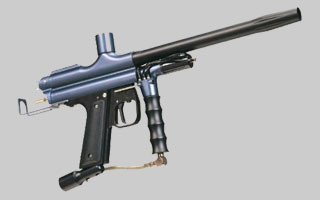 Check Price: WGP Trilogy Sport
Some of the most accurate paintball guns ever constructed have been autocockers. They are a smooth working design that delivers a paintball down field where you intended it to go. WGP has been making autocockers since day one. They are also known as one of the leaders of autococker design and delivery.
The Trilogy Sport gun is an aluminum platform design with closed bolt accuracy in a super air efficient build. It's got a hinged frame with a gas through for grip and a high performance low pressure regulator. The standard 45 grips give you options for upgrading. The integrated 3-way and velocity adjuster work with the polished ram and high pressure valve system.
WGP is really delivering a paintball players marker. It's a good paintball gun that can shoot like a champ.
WGP Worr Games EG Electronic Paintball Gun
Check Price: WGP EG Electronic
FULL AUTO, 3-SHOT BURST and SEMI-AUTO!
If you are looking for a paintball gun under $60 we have a great marker for you. Enter the WGP Worr Games EG Electronic Paintball Gun. It's a full automatic capable electronic marker that has a higher rate of fire. The EG uses a break beam eye system to reduce chopping and comes with an inline regulator to maximize shoots per tank. Worr Games gave it an all aluminum body with a bright blue luster finish and a composite 90 degree two finger grip frame for a light weight and durable build. It shoots good on CO2 or HPA/Comp Air/Nitrogen. This gun is an awesome bang for the buck.
WGP Worr Games RG Mechanical Paintball Gun
Price Check: WGP RG Mechanical
This is the mechanical version of the WGP EG gun. It requires no batteries and includes many of the features of the electronic version. You get the inline air regulator for easy velocity adjustments with an air gauge for instant adjustment readouts. The showy aluminum body with anodized finish has a high end luster that you will be proud to show off. Its 90 deg grip frame is built with a two finger trigger and rubber grips to help you reach high rates of fire. A light weight bolt/internal design is field strip capable with no tools needed. If you are looking for a gun to eventually upgrade, this marker uses autococker barrel threads so you will be able to easily find sniper barrels or other popular barrel designs. It's a great mechanical gun for the money.
Kingman Spyder Aggressor Package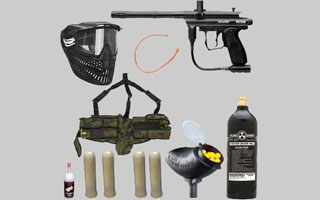 Check Price: Aggressor Package
This package deal is often available for $70 with the VIP free shipping option.
If a paintball gun package is what you're looking for, this combo with a Kingman Spyder Aggressor paintball gun is a great kit. The package comes with everything you need to get out onto the field playing in serious style. The Aggressor marker is well known for its ability to lay down some hardcore fire power. The mask will keep your pumpkin safe from being battered by incoming paintballs. The tank and hopper are an affordable, yet effective, choice for completing your battle ready equipment checklist. The pods and carrying harness help you bring the battle to your opponents. A squeegee and gun oil keep your Aggressor paintball gun a clean and smooth firing machine. It's a perfectly matched package for the value conscious player that demands high performance at a lower cost.
More paintball guns will be added here as we find guns that we are willing to recommend for under $50.
Posted by Redwood