Tippmann Crossover Paintball Marker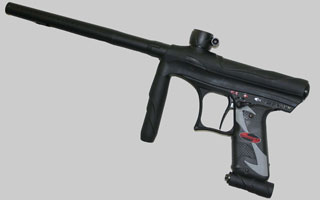 Check Current Price: Go!
The Tippmann Crossover is designed to serve the player who wants a marker for any type of paintball play. Be it woodsball or speedball the Crossover is built to conquer either engagement and do it well.
Tippmann has been producing paintball markers and accessories for over 25 years. They build some of the most popular pieces of equipment this sport has employed. Many of their markers purchased more than a decade ago are still in the prime of their service life. Reliability, value and the ability to function well in varying weather and terrain are a few of the things that have kept Tippmann a favorite of many paintballers across the globe.
Their introduction of the Tippmann Crossover is no surprise from such an innovative company. Its purpose is to serve the needs of diverse playing situations with a single marker. The Crossover can be used electronically on the speedball field to deliver ropes of paintballs by walking the trigger. It can also be switched to mechanical on the fly to function more like a sniper or assault rifle.
What to Expect for Tippmann Crossover Upgrades
The exterior form of the Crossover marker doesn't play the part of a milsim scenario weapon, but it carries a very functional build that includes the reliability of Tippmann. It functions well in the woods or on a pallet field with either electronic or mechanical operation selected.
On the speedball field this marker provides you with a tournament lock and a selection of firing modes, including semi-auto, auto-response, 3-shot burst, PSP, NPPL and Millennium. The modes are easily configured by a button on the back of the grip frame with the electronic/mechanical switch being a left side upper grip frame mount thumb type switch.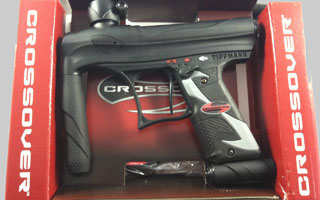 Crossover For Sale
Many reviews about the Crossover have been very positive. It ranks high for it's trigger, efficiency and its ability to switch modes on the fly. Some reviewers have modified the trigger by removing the trigger return spring. This mod makes the trigger easier to walk and feel more crisp. A seerless magnetic hall effect trigger switch will allow you to punish your opponents while reaching the markers 15 balls per second electronic cap.
Paintballs are managed internally by dual ball detents and a dual tape eye type break beam system. This should prevent most ball chops when in electronic modes. The balls are then shot down the 12 inch ported stock barrel.
There hasn't been a lot of talk yet about upgrades for the Crossover. Most of the markers component compatibility is friendly across similar Tippmann platforms and other common aftermarket companies, like the the A5/X7 barrel threads which allow for an almost unlimited selection of aftermarket barrels available to customize the marker to your style of playing.
Internals are familiar, too. The Crossover uses the FlexValve from the X7 Phenom. The open bolt blow forward spool valve system has already proven itself as an efficient(1400 shots per 48x4500), accurate, and trouble free system. The trigger is not Tippmanns usual E-Grip system but a new design that eliminates/replaces some of the E-Grips trigger parts.
The FlexValve runs best on lower pressure(300 psi) compressed air(HPA, Comp air, or Nitrogen) but will run on CO2 as a last resort. Tippmann recommends operating the Crossover in mechanical mode if using CO2.
A sleek milled aluminum body makes a lean and light marker weighing in around two and a half pounds. Even at that weight the FlexValve maintains a minimal recoil. The vertical clamping feed neck position helps balance the marker for a more stable feel when quickly shifting around bunkers or popping out to snap shoot. This isn't normally a desirable choice for a woodsball marker since it would interfere with tactical rail mounts, but it makes perfect sense for the Crossover.
The sturdy front grip provides plenty of space between the trigger frame for gloves. It does not contain a regulator, however, the internal gas system could be converted to a front mount regulator with an external line, or remote line hookup, if you so desire. I don't know that it would be recommended, but you could replace the front grip with an expansion chamber if you had to run CO2 more often.
The Tippmann Crossover Manual is very detailed with exploded views of all the assemblies and includes good instructions on marker operation and maintenance.
If you're interested in purchasing a Tippmann Crossover we recommend XXXXX. They have the lowest prices, cheap or free shipping, and phenomenal customer service.
Posted by Redwood on 10/05/2012