Tippmann Paintball Marker Rebate for 2014
If you ever needed a great reason to buy a Tippmann product here it is. Tippmann is offering a $30 rebate on their most popular products:
Tippmann 98 Custom Platinum Series
US Army Project Salvo
US Army Alpha Black Elite
Tippmann Sierra One
Tippmann Bravo One
This offer is valid October 15, 2014 thru January 15, 2015 to qualifying purchases in the US and Canada.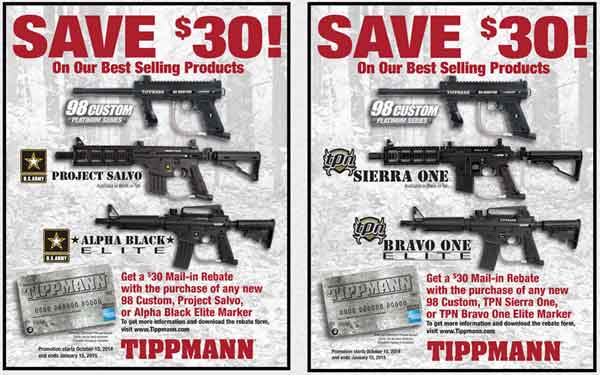 Tippmann has been offering rebates around the holiday shopping season for the last couple of years. If you are Christmas shopping for your favorite paintballer this is the perfect opportunity. Everyone would love the gift of a Tippmann for Christmas!
This discount may be used with package deals and custom builds. See the full selection of qualifying paintball guns here
.

Tippmann Rebate Form for US Residents: here
Tippmann Rebate Form for Canadian Residents: here
---
Posted by Redwood on 11/24/2014