New Paintball Products
What's new and coming in the world of paintball products. Watch for new releases from your favorite paintball manufacturers.
---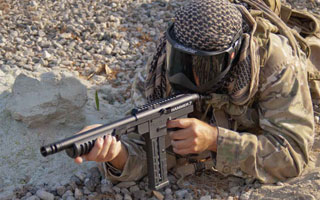 11/10/2012 - Kingman's newly redesigned Spyder Hammer 7 is a magazine fed(or hopper fed) pump action paintball marker. Kingman first released the original version of the Hammer 20 years ago. The Hammer 7 has been upgraded with the function and components of a modern marker.
---
11/09/2012 - Empire is due to release the new Scion Paintball Loader later this month. It's essentially a more efficient Halo with speed adjustments, some toolless access improvements, and eyes that are more forgiving towards different paintball shell colors.
---
The new Dye dual (hopper/magazine) fed, First Strike capable, marker is coming. It can be switched from hopper fed to magazine fed on the fly with a sliding mechanical button.
---
RAP4 announced the release of a new gas through type system for the Tippmann X7 Classic, X7 Phenom and the Tacamo MK7. This new system eliminates all external air lines to give your marker a cleaner look and less clutter.
---