V-Force Profiler Mask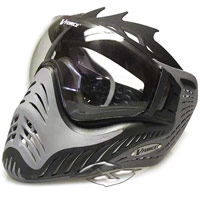 Check Current Price: Go!
V-Force Profiler Paintball Mask commonly worn by Wolfpack Paintball Team members for several years has proven to be a leader in providing a light weight, tough, competition mask system for both tournaments and scenarios. Granted we don't play very many scenarios any more but, scenario paintball is the teams roots. Regularly playing at Challenge Park Extreme in Chicago and at several massive scenario games such as: William Shatner's Big Scenario Game(Shattner I) and Mobster Mash(Shattner III) and The Last Samurai, The Battle For Monte Cassino, and Stalingrad - Enemy at The Gates. Also at our local fields like Stalker Paintball field in Wisconsin Dells area at their Jungle Patrol events. The V-Force Profiler are popular paintball masks for most people playing at these events.
The vForce Profiler is still an awesome Paintball Mask
Some of our favorite features of this mask system is the optical superiority it offers with its unobstructed view and its ultra low profile to keep its target signature very small. It also offers a soft compound to help bounce glancing blows from all those paintballs shot at you. We can always appreciate bouncing a ball off of our masks instead of getting called out! Another great feature of this mask is its anti-fog thermal lens system. The mask tends to direct heat away from your face and keep the lenses cool and fog free. Any paintball player can see where that would be useful. V-Force also offers a lot of other mask system models such as: Morph, Armor, Shield, Vantage and even some Eye Tactical Helmets. A lot of great options from a trusted respected paintball company. Most of their models are available in wide variety of colors like: red, yellow, blue, light blue, green, black and grey. Of course you could always spice them up with a set of mask Skins :) Paintballers from professional teams all over the world are happy to use V-Force Profile and Profile SE masks as their paintball mask of choice. Team Wolfpack highly recommends them. Their unrestricted view, eye and ear protection, easy lens cleaning and anti-fog technology is second to none!
Give V-Force Profilers a try now! You and your team will not regret it!
Posted by Redwood on 11/12/06
Also see:
Vforce Grill Paintball Mask System Review
Cheap V-Force Grill Replacement Lens
Goggles Mask Systems