Tippmann Carver One Sniper Rifle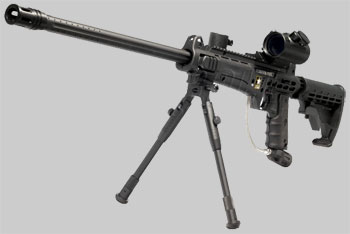 Tippmann recently unveiled the US Army Carver One and put another very customizable paintball gun in the hands of scenario players. It's a smooth working affordable marker that sells in the standard version for under $100. The Tippmann US Army line up of weapons has been growing by leaps and bounds in the last year. The Carver One comes after the introduction of the Project Salvo. Both guns sport room for mucho add-ons.
The Carver One Sniper a weapon designed for eliminations
The Tippmann Carver One seemed like a likely candidate for a sniper build. It starts out as an affordable weapon base with plenty of tactical rails to add your favorite assault toys. This one comes with a true Custom Products 20 inch sniper barrel that sports a suppressed tip. The top of the gun hosts a 45 degree site rail with an electronic red dot site to give any sharp shooter the advantage needed. On the rear of this build sits a 6 position collapsible light weight stock to add the ability for adjustment at that critical point of contact. Also, under the chassis is mounted a folding and adjustable bi-pod to keep those shots nice and steady.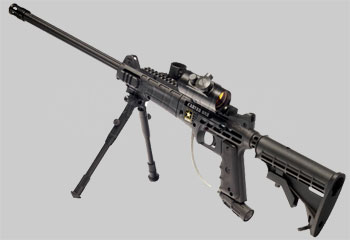 The Carver One makes a great Sniper Gun
Of course there is still room for you to add onto this paintball gun with some of your preferred upgrades as the Tippmann Carver One Sniper Rifle has several unused tactical rails available and countless other internal and external upgrades waiting for you. Don't under estimate adding an e-trigger for that auto fire or 3 round burst suppressive fire.
This US Army paintball gun is proving to be dependable and high performing as it is making more appearances at scenario games and woodsball events all over the country. The Carver One will serve you for many years to come, and in the sniper configuration, it will allow you the joy of playing one of the most coveted positions on the field.
Check out the Tippmann Carver One Sniper Rifle NOW!
Also see:
Tippmann Carver One
US Army Project Salvo Paintball Guns by Tippmann Products
Tippmann Project Salvo Paintball Gun
Spyder MR1 Sniper Gun
Tippmann A5 Sniper Rifle Upgrades and Add-ons
Sniper Rifles Paintball Guns - Our Picks for Best Markers
Paintball Sniper Guns
Tippmann 98 Custom Sniper Guns
Tippmann 98 Custom Upgrades
Tippmann X7 Paintball Guns - New and Used Prices
Tippmann X7 Sniper Marksman Rifle

Posted by Redwood on 3/25/2010