Choosing the right Paintball Masks
Getting hit in the face at 300 feet per second by a paint filled capsule almost 3/4 of an inch in diameter could be a painful experience with the wrong paintball mask. Fit, function and protection are the main things to matching a mask to your face and play style. Going out to the field with an inferior mask can ruin your day of play. Impairing your vision with a fogged up lens will make you a sitting duck. If you can't see your competitors but they can see you, you have a problem.
Shop for Paintball Masks
A poorly fitting paintball mask will not only be uncomfortable but may not provide you with adequate protection.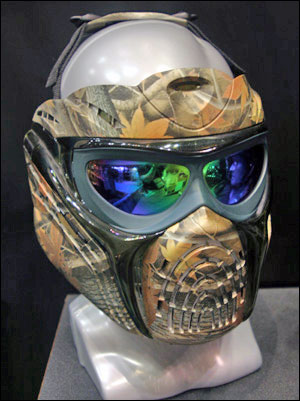 With so many paintball masks available how does one go about choosing one that will work effectively and be comfortable? What are the popular brands and options?
Most of the popular name brand paintball masks come with adjustable straps and have many accessories available. vForce, DYE and JT are common manufacturers found at your local stores and fields. Optional tinted lenses, talking game timers, custom printed straps and visor fans can be purchased for most of these mask systems.
vForce
Most vForce masks have a single thermal lens and provide more space inside the mask for people who wear glasses. Double lenses can sometimes produce a magnified effect for people with glasses. The single lens is very fog resistant and quickly pops in and out for cleaning. The Grill and Profiler models are vForce's top of the line single lens masks available in colors for the woods or the speedball course. These models provide excellent protection and fit medium to larger heads comfortably.
vForce also sells a number of lower priced paintball masks to fit all budgets. Many of these models have been around for a lot of years and have proven themselves over and over. The Shield and Armor models have been a popular choice for many paintballers since the 90's. These models maybe better sized for smaller heads. Many fields use vForce lower cost masks for their rentals.
DYE
The i3 mask is the latest mask system from DYE. Its improved features over DYE's previously successful Invision model are a lighter weight design, multi-directional venting and "soft ear" protection. The i3 is a larger paintball mask system that will protect the most intense of players. DYE has also gone to a more flexible material like most other paintball mask manufacturers. This improves the masks ability to bounce a paintball and prevent a ball break. This is one of the higher priced masks.
JT
JT has been around making masks since the birth of paintball. Some people swear by JT mask systems. The amount of accessories to upgrade their masks is mind blowing. Creating a custom JT mask is easy to do, from custom straps to different colored pieces of the main shell, you can have an extremely unique mask.
Some other brands of reputable paintball masks are:
Proto
Extreme Rage
PCS
Scott
Empire
Vents
Eye Tactical
Invert
Shop for Paintball Masks
Fogging Up!
Keeping your mask functional and not fogging up can be helped by purchasing a thermal lens and/or a goggle fan. The thermal lens is usually a two plane lens with a pocket of air between the two layers. The goggle fan fits above the lens by or in the visor and runs on a single "AA" or "AAA" battery. Both of these upgrades are commonly available for popular masks and are well worth the money.
Protecting all of it
Some of the masks have extra coverage panels to protect more of your head. Extended ear pieces and chin extensions are optional with some masks. The JT Headshield mask protects your entire head from getting directly by a flying paintball. Getting hit hard in the head is one of the most painful ways of your competitors eliminating you.
Lenses
Most serious players invest in several different color or tinted lenses for different lighting and game play needs. Keeping an extra clear lens is important because it is the most commonly used lens. A smoke or sun tinted lens is great for speedball/airball tournaments with the sun is shining. A yellow tinted lens can bring out shapes and provide an increase in movement awareness for those deep woodsball/scenario events. DYE produces a Dyetanium series lens that is a dark tinted lens in several colors ranging from an iridescent blue to silvers and reds.
Fun Stuff
Goggle Skins are a see-through decal that stick to your lens. They are great for camouflaging the reflection and signature from your lens. They are available in several camo styles and even some freaky looks to scare your enemies away.
Venting
The more expensive masks are well vented not only to improve air flow for your breathing, but to not inhibit your voice for on field communication. Many people find that wearing a headband low on their forehead can cause the lens to fog by not allowing the mask systems full ventilation from removing the heat and moisture we produce during adrenaline pumping play.
So whats the deal?
The purchase of your paintball mask should be taken very seriously. It is one of the most important pieces of equipment and needs to be functioning correctly for your comfort and safety. Look at all the different brands and find the correct mask for your type of play. Add accessories as you see fit to adapt to new playing conditions and to help your mask work effectively. Choose your paintball mask wisely and you'll be ready to take on the world of paintball!
Shop for Paintball Masks
---
[added 10/22/08] Buying used paintball masks can be a great way to save some money. Be sure to ask the seller about the condition of the lens and foam. These are the most common areas to show wear. Ask if the foam is detachable, as you will want to wash their sweat out of it once you receive it =) Ask for a close up shot of the lens to see how many scratches are on it. Depending on the light and camera angle it maybe difficult to see the surface of the lens.
Just a thought about reffing
If your team refs paintball tournaments regularly don't over-look buying a yellow mask. When a player first sees you, they naturally look at your face to see where your looking and to identify you. The next thing they generally do is spray you down with paintballs. I've reduced the amount of bonus ball I received while reffing by wearing a yellow mask. Scott USA makes/sells a yellow referee mask for about $20. It's a cheap option but maybe worth it for not taking so many shots.
Shop for Paintball Masks
More Resources:
How to make a Mask Ghillie Cover
Hannibal and Mempo masks
Custom Painted Masks

Posted by Redwood 10/20/2008