PE Etha HDE Camo Marker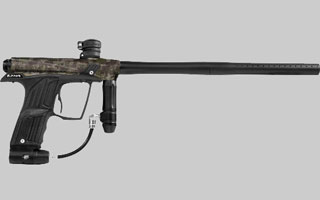 Paint Check: HDE Camo
The Planet Eclipse Etha definitely aroused an enthusiastic group of fans; and rightfully so. This affordable marker is laying some serious paint downfield at tournaments and scenarios alike. We were ultra impressed when PE first released the Etha, but now it's getting more upgrades and colors.
PE recently painted the Etha in their HDE(high definition eclipse) Camo scheme and even more magic happened. Forget common courtesy expected by traditional looking markers, leave your boring Tippmann at home, instead grab this thing and disappear into the flora of sniperville. Happy times await those who embrace the idea of invisibility. We love the camo, thank you PE.
If you're not familiar with the Etha, we wrote a little ditty on it back in May of 2012 you can see here. Or, just a quick rundown about it: The Etha is basically PE's affordable electronic marker that followed in the footsteps on the level of quality as their Ego, Etek, and Geo. It has most of the features you'll find on high end markers with a decent price tag.
Spark your interest? Take a look now: Etha HDE Camo
Posted by Redwood on 03/27/2013
Also see:
Check out the Etha Vids on Youtube
Etha on PE's site