Buy Cheap Paintballs
We all like to save a little cash when buying paintballs. There is definitely a lower end of paintballs available if you want to buy cheap paintballs that way. Another great way to save some cash is to find a large online retailer that offers free shipping with a minimum purchase. Many of these retailers offer the free shipping on orders over $150. If you aren't looking to buy that many paintballs at once, talk to your friends or team mates about combining your orders to get the cheap deal. The savings can be significant. I'm not saying that you have to buy bulk paintballs or a pallet of paintballs, just combine your order and take advantage of getting paintballs with free shipping.
Buy Free Paintballs with Free Shipping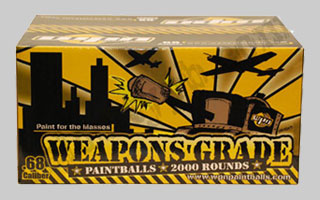 There are also some brands that you can buy cheap paintballs with confidence. WPN offers some really good paintballs for under $40 a case. Their "Weapons Grade" paintballs have always been good to us and we like to buy 4 cases at a time to save some cash.
There are seconds paintballs that you can buy, usually you can buy 2000 paintball for around $25. These paintballs can be problematic though. I don't mind getting them and have many with a less round shell, but often we get a case of seconds paintballs and find some of them have broken in the box. Sometimes it's only a couple and clean up is easy. Just lay an old towel out on a table and lightly roll the dirty paintballs back and forth. Do a of handful at a time and you'll have the bag of affected paintballs clean before you know it.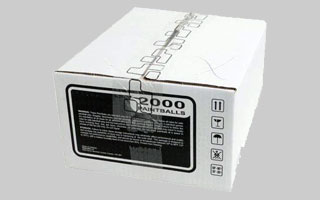 Another obstacle you can run into when looking to buy cheap paintballs is that the fill can be very weak. Sometimes there will be a low amount of fill, other times the fill will be mostly water and barely mark your target. Hopefully, you will be using the case of cheap paintballs for practice or just shooting around and not in a tournament where marking somebody has a big determination on your success.
Many of the whitebox or seconds paintballs are from some of the top paintball manufactures and they had a batch that didn't meet their quality standards. We've opened a few boxes and recognized the make and model. It's kind of a hit and miss ;-).
If you are in the market to buy cheap paintballs then have a look at some of the more popular name brands and consider spending 5-10 dollars more for the branded ones instead of saving that $5 and getting a case of whitebox or seconds paintballs.
Save some cash and Buy Cheap Paintballs now.
Posted by Redwood on 09/20/2010
Also see:
Paintballs
Cheap Paintballs
Buy Paintballs