Kingman Spyder Hammer 7 Pump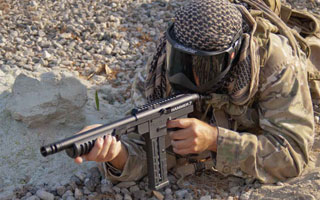 Check Availability: Hammer 7 Pump
Kingman's newly redesigned Spyder Hammer 7 is a magazine fed(or hopper fed) pump action paintball marker. Kingman first released the original version of the Hammer 20 years ago. The Hammer 7 has been upgraded with the function and components of a modern marker.
Its milsim shotgun appearance plays to the pump look, but don't be fooled, it is capable of being hopper fed with an included clamping feed neck that can be installed into the tactical rail. A nine round magazine is compatible with First Strike paintballs offering two times the distance and accuracy.
The Kingman Spyder Hammer 7 will soon be available in black or olive green for around $159.99 from most major online paintball retailers. Extra magazines are also available, both the nine round First Strike compatible, and the Kingman 10 round AR 15 style magazine.
Posted by Redwood on 11/10/2012
Return to New Paintball Products index page.