Cheap Paintballs
Check Current Price: Go!
Let's face it, this is an expensive sport. Buying cheap paintballs is definitely something we all want to do to save some cash. A hard day of playing can end up costing a lot of money if you have to buy high end or over priced paint. A few weekends of playing can cost more than your equipment. What paintballs can you trust to deliver quality at a cheap price?
What are the most important things when it comes to the performance of your paintballs? Is the cheapest brand going to break in shipping? In your pods? Hopper? Barrel? Or will it not break at all, not even on your opponent? Let's take a look at what makes up some of the cheap paintballs that are commonly available from your favorite online store.
Free Shipping is a Huge Benefit for Cheap Paintballs
There are several lower cost paintballs that will have a good balance between performance and affordability. If you are just looking for the cheapest paintballs you can buy, you are almost definitely going to run into problems. Maybe that's OK for you. But, for a few bucks more you could have a much better experience. Saving a few bucks and getting white box will not provide you with the same amount of fun that a name brand that stands behind their products.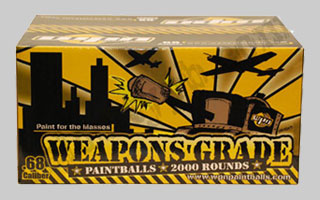 WPN makes a low cost paintball called, "Weapons Grade". It shoots straight and we love them. It's not the cheapest paintballs, but they are definitely affordable and reliable. They typically come in a blue, yellow, purple or orange fill/shell combo. They almost always break when you want them too and not in your equipment. They also make a "Toxic" paintball that is a few bucks more and we've always had a great experience with them.
If you're dead set on getting cheap paintballs and don't want to spend much money, Core sells their seconds paintballs for less than most others. We've shot a few of these and have had pretty good luck. Seconds are definitely not our preferred choice, but have shot them in a bind.
Draxxus has their "Basic Training" or "Recsport" that could fit the bill if your stuck on cheap paintballs. Both have performed for us well. Some of the best paintballs we've ever shot have been from Draxxus. That was back when our local field was buying wholesale paintballs from them.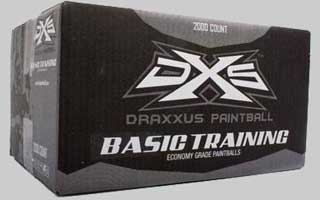 Draxxus Basic Training Paintballs
Every once in a while Nelson will have Nel-Splat balls marked down and you can pick them up super cheap. You kind of have to watch to see when they drop in price. Availability could be spotty.
The biggest thing you have to ask yourself is how much you're willing to play with cheap paintballs that may or may not perform the way you expect them too.
Many of the cheaper non-brands have a poor fill that won't properly mark your target. They often have an out of round shell, or a shell that's too brittle or too hard. We've even seen the discount paintballs show up with some of the balls unfilled or half filled.
Another way to get cheap paint is to buy bulk paintballs at wholesale prices if you can get enough people together to make a large purchase. If you can buy a full pallet of paintballs you can probably work a sweet deal that will save everyone some serious cash.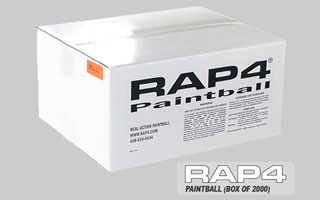 RAP4 Paintballs: $30 for 2000 rounds!
Also, buying a box of 500 isn't really going to save you money over buying a case of 2000 paintballs in the long run. If you can only afford 500, maybe talk to your friends about chipping in on a full case of paintballs. It'll save you money.
If you shop at Paintball-Online, you can get in their VIP program and get free shipping on a single case of paint. They also offer you cheaper prices on all of their paintball gear if you're a VIP member. That can save you a lot of money over time too.
Spending a little more on name brand cheap paintballs, like WPN Weapons Grade, is definitely our recommendation here. You need to think about how playing with white box or seconds paintballs is going to affect your game. If you can't shoot because of paintball failure, then it really isn't worth the couple of bucks you're going to save on that crap paint. Get cheap paintballs, but shop smart.
Buy some quality Cheap Paintballs now.
Posted by Redwood on 6/10/2011
Also see:
Paintballs
Buy Paintballs
Buy Cheap Paintballs