Best Cheap Paintball Mask for Sale?
What's best is what will work for your budget and your playing style or particular needs. Finding the best mask may be a little more straight forward than some other items in this sport.
Paintball masks can range from $10 to over $200. There is definitely some truth to the old saying, "You get what you pay for." But the most expensive mask isn't necessarily better than a mask that's a little cheaper.
There are a lot of factors you need to take into consideration when buying yourself a mask. Certainly your budget is one of the most important things to consider and probably the biggest limiting aspect. Just remember your mask is by far the most crucial piece of safety equipment you can buy(insert argument about a protective cup), and your budget should be adjusted accordingly. We'd recommend finding a price range you will be able to afford and start your search there.
One of the most accurate ways to find what best fits your huge melon head is by going to a well stocked paintball proshop and trying on everything they have. I recommend this to people even if you're not in the market for a new mask. When I'm down at CPX in the Chicago area, I ask to try on any of the new masks they have hanging on the wall. Sometimes I get some strange looks, but at least I'm getting a feel for the next time I'm in the market for a mask.
If you have a large head, glasses, or have some other less common issue you will want to take that into consideration. Don't be afraid to ask fellow paintballers on PBNation or other well traveled paintball sites. They may have a suggestion for something that will help, but just as important, they may have some in-site on what didn't work for them.
Key elements for choosing a paintball mask:
Fit and feel to your head. Not only standing still, but running down the field and jumping behind bunkers.
Coverage of your face. Does it cover your ears, chin, and forehead?
Fog and heat. If you're a particularly sweaty person, or you often play in extreme heat or cold, you'll need to take that into serious consideration. Look for a thermal lens and ventilation.
Available accessories. Like most of us, you probably want to trick it out to make it unique, or add a fan. Make sure there are options that fit your customizing tastes.
Lens choice and ability to clean. The more expensive masks have many lens tint options and are usually easy to remove for cleaning.
Save Phace has some very unique looking masks, or they can make a custom mask to your graphics/art. Their masks are a little bit heavier and are made from a slightly less flexible material than others in their price range, but they have lots of great features too. Quick removing foam for changes between rounds, lens and straps that can be popped out in a hurry, and most of their models have very good forehead/chin coverage.
VForce has always been one of our favorite brands. The Grill and Profiler are some of the best values for the money. They are lightweight and flexible, stretch to fit larger heads, and accommodate people who wear glasses. Some of their other models are a great bang for the buck too. The Vantage is an affordable full featured option from them as well.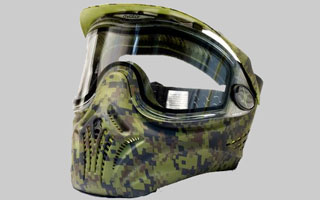 Empire has a selection of masks that run the full price range from beginner to top level. The E-Flex and E-Vents are their higher priced masks, but the Helix and X-Ray are available in thermal lens versions starting around $25. They even make the X-Ray with a full head coverage option.
JT is, and has always been, one of the best known paintball masks brands in the sport. They have always offered a huge selection of masks and accessories. If you're interested in doing some extreme customization you may want to take a serious look at JT. The Flex and ProFlex series is one of the most popular mid-priced options.
If you have a larger budget or have to have the newest mask, check out the Cyon C2, HK Army KLR, Virtue VIO, or the JT ProFlex LE 2.0. There are some of the newer masks out on the market and come in pretty incredible colors.
There are a lot of different mask brands/models available to choose from. Be sure to take your time and examine your specific needs before making your purchase. Remember to try on as many masks as possible and ask questions to help you discover the best paintball mask for you.
---
Posted by Redwood on 6/30/2014