Dangerous Power G3 Spec-R Paintball Gun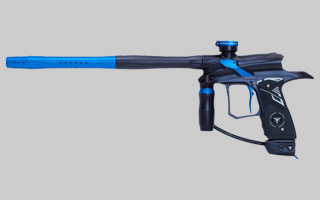 Dangerous Power G3
Dangerous Power has been making high speed quality paintball markers for players who demand an affordable tournament platform that will perform with the higher end guns. The introduction of the G3 Spec-R marker is a definite step in the right direction for paintball. It proves that an affordable marker with a high end performance can not only be competitive at paintball tournaments, but make a strong name for themselves as a leader in the industry.
Check Current Price: GO!
The DP G3 Spec-R Marker is an Awesome
High Speed and Affordable Tournament Marker
The Spec-R by Dangerous Power brings several things to this class of cost for a paintball gun. The bolt is designed with no O-rings. That mean less repairs for you and a low coefficient of friction on your guns internals. This essentially leads to higher rates of fire and a lower amount of kick. Being able to minimize the kick also creates a more stable level of gun muzzle rise at higher rates of fire, providing you with a much more accurate marker.
The Spec-R is available in several colors
Hold onto this DP G3 Spec-R Gun in high winds. It weighs in at an almost unbelievable 1.68 pounds. That is the lightest marker that we know of on the market today. A feather weight like this can help you to snap shoot at break neck speeds that your opponents won't be able to retract themselves fast enough.
Another great thing Dangerous Power gives you is the ability to sip air out of your paintball tank with this gun. It runs at an astonishingly low 150psi. That will not only keep you shooting longer, but will allow you to spend less time at the fill station area standing in line to top off your tank.
The bottom line is that when you are ready to purchase a quality marker that can keep up with guns priced in the 4 digit range, Dangerous Power has you covered with the G3 Spec-R paintball gun. It's one impressive little gun that can hold its own in a serious fire fight.
Check Current Price: Dangerous Power G3 Spec-R Paintball Gun
Posted by Redwood on 4/13/2010
Also see:
Dangerous Power Rev i
Dangerous Power G3 Paintball Gun
Paintball Gun Barrels