Tippmann TPX Pistol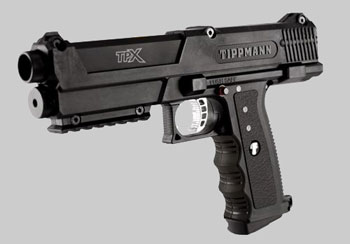 Check Current Price: Go!
Shoot the crap out of your friends on the paintball field with the new Tippmann TPX Pistol. Besides being a sweet little gem of a marker, this customizable scenario pistol can be completely tricked out. X7/A5 barrel threads and an under gun Picatinny rail open the possibilities to upgrade this hand cannon into a serious assault weapon feared by everyone on the field. Great for CQB fighting or shooting at targets up to 150 feet away.
Tippmann TPX Pistol the next step in Scenario Paintball
The 12 gram CO2 powered internal regulator has an external air attachment optional to hook up a regular tank. The standard gun style 8 round quick release magazine(with see-through window for checking remaining rounds) removes separately from the CO2 cartridge. The trigger punctures the CO2 canister the first time it's used, this saves on CO2. The bottom of the robust grip has a 1/4 turn easy to reload CO2 compartment. The Tippmann TPX Pistol has an external field legal velocity adjuster.
The gun shoots only in semi-auto mode, weighs in at 1 pound 11 ounces and is about 11 inches long. The Tippmann TPX Pistol includes a carry case and maintenance kit for this easy to maintain light weight marker. The bottom of the grip handle even has a lanyard clip.
Buy the new Tippmann TPX Pistol now, or risk being shot out by one!!
Posted by Redwood
Also see:
BT SA-17 Paintball Pistol
Paintball Pistols Under 100 Dollars
Cheap Tactical Paintball Pistols by Tiberius Arms and MilTec