Spyder Sonix Paintball Marker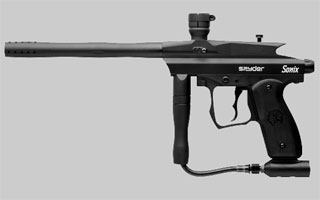 Kingman has built themselves a reputation for building great affordable guns. The 2009 Spyder Sonix paintball marker is more proof of Kingman's commitment to this tradition. With standard features of pricer models, the '09 Sonix out shoots most non-electric guns in it's class and for well under $100.
Kingman reports that they lightened the newest version of the Sonix by 15%. It also boasts a 10% shorter overall length to keep it agile and a well disciplined gun. It's an ergonomically designed marker constructed from aluminum and high impact polymer. The rubber gripped two finger trigger frame has plenty of room to use with gloves and the trigger can rattle off a rope of paintballs at your competitors.
The 2009 Spyder Sonix paintball gun is lighter and faster
The latest goodies on this marker include an all new clamping collar feedneck, a 10 inch micro honed ported aluminum barrel and it's anodized matte finished body houses an external velocity adjustment. The '09 Spyder Sonix paintball marker has a tool free striker plug design for quick maintenance. They've even gone as far to include a pull pin style Delrin light weight bolt.
Standard steel braided inline bottom ASA operates on comp air or CO2 and comes with a vertical CA threaded adapter foregrip to line up those nasty shots.
The 2009 Kingman Spyder Sonix Paintball Marker is generally available in Black and Olive.
Check out the Spyder Sonix Paintball Marker now.
Posted by Redwood
Also see:
Kingman Spyder Paintball Guns
Kingman Spyder MR4 Paintball Gun
Kingman Spyder MR1