Kingman Spyder MR4 Paintball Gun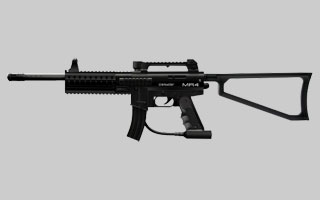 Check Current Price: Go!
Milsim players will love the new Kingman Spyder MR4 Paintball Gun. Upon first glance at this beautiful marker, you will notice a built in shroud with a serious amount of real estate available on the tactical rails for all of your scenario goodies. Kingman understands that scenario players want a gun that looks the part of a serious milsim replica right out of the box. The MR4 definitely looks the part without having to add a bunch of visual accessories.
Kingman is delivering this marker with a ton of desired benefits at an affordable price. It's a couple of steps above the Kingman MR1 and has features offered on more expensive guns like the Tippmann A5.
The MR4 also has a huge selection of aftermarket parts already being produced for the MR1 that are compatible with this marker. Just like the A5, this marker can be customized to not only fit your playing style, but to complete a look or persona that you want it to accomplish. It's the next generation of Kingman customization for under $200.
A serious amount of real estate is available on
the tactical rails for all of your scenario toys.
As paintball valve technology advances, even the less expensive paintball guns can afford to build extremely efficient internal air management. With the power of Kingman's research and development, they have introduced us to the EKO Valve System. This Valve System claims an impressive 1800 shots per fill of a 20 oz CO2 tank. That's almost a full case of paintballs per fill.
The EKO Valve also helps to drastically reduce the amount of "kick" that is produced by the internals while they cycle. This reduction is not only easier on your internal parts, but can also seriously improve the accuracy of the MR4 marker during high rates of fire.
This thing has rails on all sides of the gun and on top of the carry handle to mount that tactical Red Dot with plenty of mask clearance. The under side rail is often used to mount a foregrip or bipod, but some people prefer the mock magazine as their front grip. Both of the side rails make a happy place for your optical laser and/or flash light. The possibilities are almost unlimited.
The raised sight rail acts as a carry handle for trooping through the woods to reach your location with minimal fatigue. It also hosts not only a tactical rail, but a raised rear iron style sight ring that can be used instead of a scope. Open sights are easier to master and don't limit your field of vision like a closed sight will do.
The business end has a 12 inch micro ported barrel with a built in muzzle break. The porting and muzzle break will help keep your shots a little more quiet. Of course, the Spyder barrel threads open up a massive selection of aftermarket barrels for you to choose from. RAP4 has a specific 20 inch sniper barrel just for the MR series sniper(see it here).
Most of the higher quality paintball manufacturers have started making clamping feed necks the standard on their markers. Kingman not only delivers the clamping feed neck, but designed it to be an off-set style to make room for your scope/sight. It's intelligent engineering that often gets overlooked. They have even traded out the cheap metals often used, for a high impact polymer that should mate wonderfully with a Kingman Fasta loader(see it here).
Kingman Spyder MR4 Paintball Gun
Don't be fooled by the single finger trigger. It's got a short pull that's plenty capable of delivering a high rate of fire by any standards. There will be several double trigger kits available soon, including an adjustable "blade" style trigger designed for high speed walking.
The trigger frame is made of their high impact polymer that has proven itself on plenty of other well tested models. It's very light weight and tough enough to put up with the usual hard core playing. It also hosts the typical Spyder stock style rubber wrap around grips that we gave a thumbs up to in our MR1 review. It's an effective surface when things get sweaty or covered in paint.
The Kingman Spyder MR4 also comes standard with the MR1 style shoulder butt stock. It's removable and functions quite well for the average player. Kingman does make an adjustable butt stock that is available separately from many retailers. Of course, you always have the wildly popular carbine adjustable stock as a choice (see it here).
The external air system is similar to the MR1 with its steel braided hose emptying into the decent looking mock magazine/foregrip. The gun operates just fine on CO2 or HPA, but CO2 operation, at high rates of fire, could use a little help with the addition of an expansion chamber.
Kingman's new MR4 Paintball Marker
The smooth air system helps deliver a paintball to its accurate range of approximately 150 feet and will reach up to 200 feet. The bolt can be field serviced/cleaned by the quick release striker plug pull pin. Also on the air side is the standard Kingman external velocity adjuster to keep you shooting at legal field speeds.
The Kingman Spyder MR4 is an all around nice paintball marker in an affordable range for players that want to keep to the woods or scenario events. This gun is build with the usual Kingman quality and has an almost unlimited supply of aftermarket add-ons and accessories for you to totally trick it out. It makes for a nice marker platform to build on and will serve you for many years to come.
The MR4 is available in a Military Kit that includes the Kingman Avant Mask and a 12 ounce CO2 tank, or the gun is available separate and includes a 200 round gravity feed loader and spare parts kit.
Go get it NOW!
Posted by Redwood on 04/29/2010
Also see:
Kingman Spyder RT Paintball Gun
Kingman Spyder Paintball Guns
Kingman Spyder Paintball Gun Upgrades
Spyder MR1 Sniper Gun
Spyder Paintball Barrel